Art is an important part of our home education. It serves to feed that need to create that all children have.  It builds the right brain type of traits like intuition and visual skills.
In our home, art, also, serves to calm the savage beasts, so to speak. When the kids are rambunctious or they just can't concentrate, I often will reach for the art supplies. Hands-on creativity redirects that energy and focus. The key is to have art supplies readily available and keep the ideas fresh, so the kids won't get bored doing the same thing again and again.
Our favorite new art medium is chalk pastels. I kept seeing a lot of my blogger friends raving about them online. They were all using the chalk pastel tutorials and the chalk pastel e-books from Tricia at Hodgepodge. I had to see what this was all about.
I went to the basement and rooted through my husbands art supplies from college (art major), found a box of chalks, and grabbed some paper so my son could try the free Angry Bird tutorial. He loved it! In no time, he had a drawing that looked just like an angry bird. He was hooked.
Both children, enjoyed the tutorials so much that I bought the Simple Start in Chalk Pastels and the Seasonal Start In Fall Pastels from HodgePodge, so I could have even more tutorials on hand when I needed them. We have worked with those books all this fall and really enjoyed them.
Tricia at Hodgepodge sent the kids her new Simple Start In Christmas Chalk Pastels ebook to see how the kids liked it. They loved it. This will be part of our Christmas art time in December.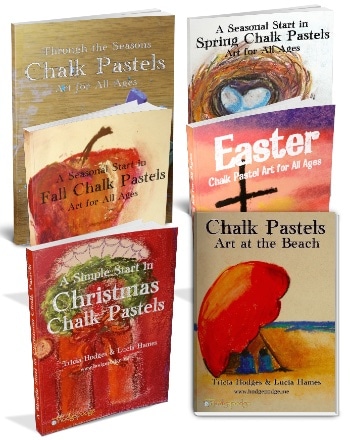 A Simple Start In Christmas Chalk Pastels is now included in the Art For All Ages Seasons Bundle. This is a great deal for the 6 ebook set of Chalk Pastel lessons. This would make a great art curriculum!
Get the Simple Start In Christmas Chalk Pastel ebook and you and your kids will be amazed at how easy it is to create beautiful Christmas art  with chalk pastels. This book contains tutorials for Christmas images like:
presents
ornaments
mittens
snowmen
manger
Bethlehem at night
*Giveaway has ended