Comet 209P/LINEAR Meteor Shower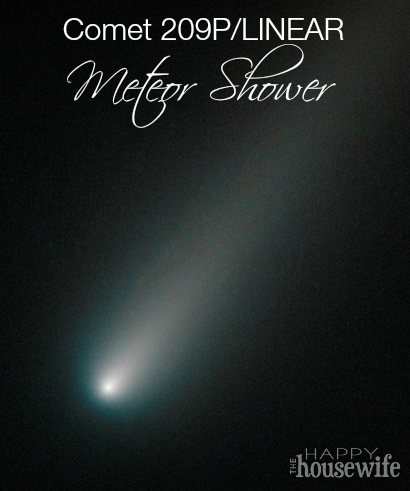 Meteor showers fascinate me. I remember heading outside in the middle of the night with my dad to try and catch of glimpse of meteors streaming through the sky.
Most meteor showers are predicted events based on observed comets in orbit around the sun. Comets are icy solar system bodies that release dust and gas when they get close to the sun. As comets travel through space, they leave a trail of this debris behind them. When the Earth passes through this debris trail, a meteor shower occurs. Meteors are simply cosmic debris that enters the Earth's atmosphere at a high speed.
On the night of May 24, 2014, we will have the opportunity to see a meteor shower from a relatively newly discovered comet.
Get all the details  today at The Happy Housewife.