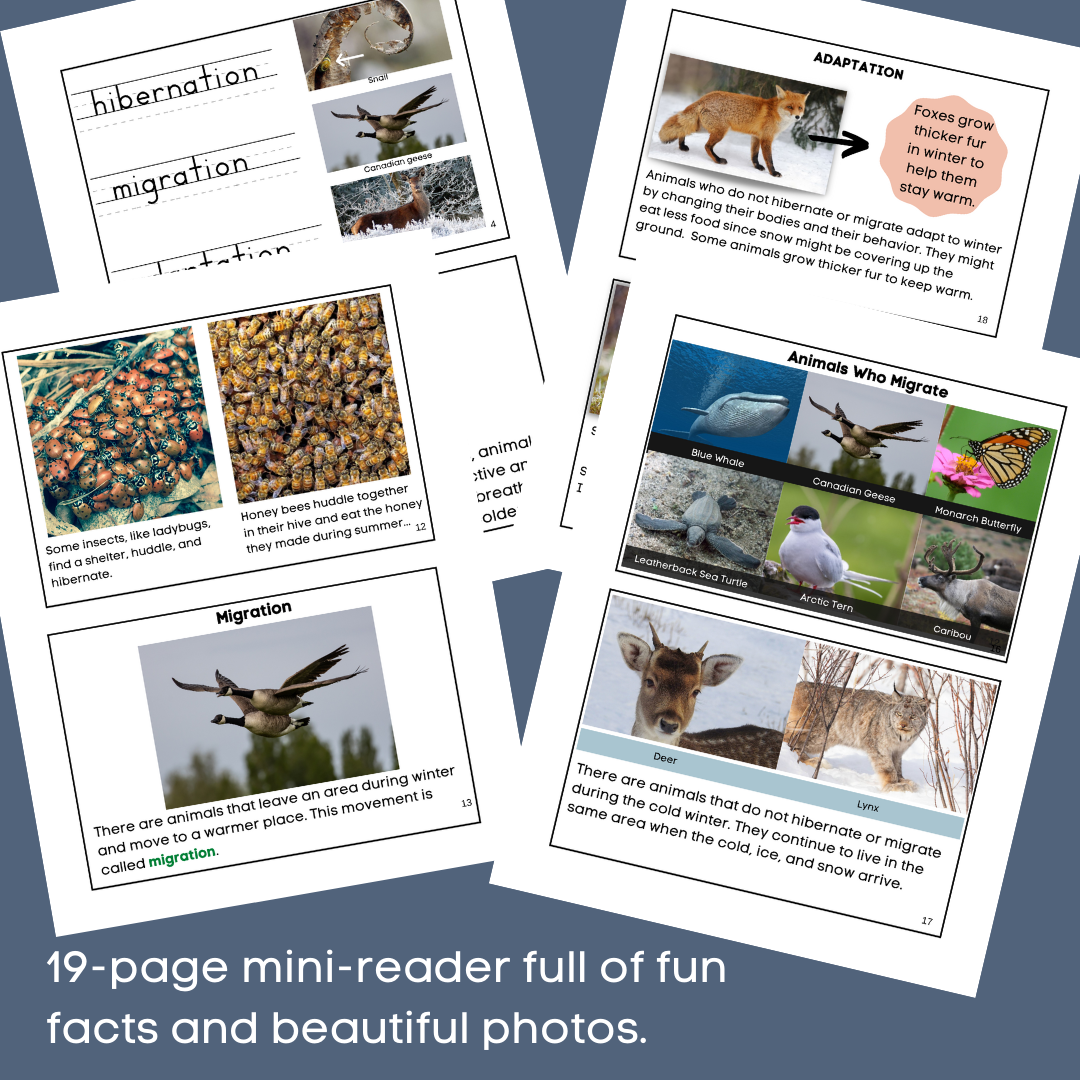 BONUS – Animals in Winter Playdough Mats
Make learning about animals in winter engaging and hands-on with this 75-page resource.
For Preschool through 2nd grade.
Teacher's Guide Included! For the teacher, there is a 7-page teaching guide that includes information on each activity and an optional book list.
Please note: We have included an Animals in Winter read-aloud mini-reader you and your child assemble. It contains information about hibernation, migration, and adaptations and is full of beautiful animal photos. The Teaching Guide contains a comprehensive list of library books you can add to your study.
In the unit, you will find:
A 19-page read-aloud mini-reader that easily assembles and includes a cover for your child to color. It is packed with age-appropriate information and beautiful photos.
Hibernating bats STEM activity
4 animals in winter posters for your homeschool area
Staying Warm Clothing Experiment
How Does Fat Keep Animals Warm activity
Build a Hibernaculum Activity
Hibernating Homes Activity Sheet and Bats in Winter Activity Sheet
Hibernate, Migrate, and Adapt animal photo cards for sorting games
Hibernate, Migrate, and Adapt "Sorting Mat" and storage pockets
14 Animal Tracks 3-part Montessori Cards
14 Animal Sorting cards to match Animal Tracks 3-part Montessori Cards
Cover Your Tracks Activity
Migration fingerplay activity with printable "props"
Two additional fingerplays
4 Math Activity Pages
My Winter Journal nature journaling cover and pages in a woodland animals theme
ADDED BONUS – 8 Animal Tracks Playdough Activity Mats
PLEASE NOTE: THE PLAYDOUGH MATS ARE FOR YOUNGER AGES.
Your little learner will enjoy learning alongside the cute woodland animals that adorn these activity mats.
Each mat features a different set of animal tracks that just might be spotted when out on a winter's walk!
In this set of 8 mats, we have incorporated:
Teaching Guide with activity instructions and ideas for each mat
Science
Math games
Critical thinking games – which can be used in different ways. Instructions are included so you can change up the activities with each use.
Letter recognition
Writing
Cute and colorful graphics
Price: SALE 40% off $6.50
Grade Level: PreK-2nd/3rd
Page Count: 75 pages with mats and teaching guide pages
This is a $12 value, for only $6.50
Disclaimer (Please Read!): No return on this product. Sale is final. After payment is made, you will be emailed the download link to the product.  Make sure you check your email soon after purchase and successfully download the product.
Add to Cart
How to Use This Unit
Included in this unit is a 6-page Teaching Guide and book list. Each activity is listed with an explanation of how to use the pages and complete the activity.
We encourage you to work at your own pace, complete the activities that best fit your children, and focus on engagement and learning. Included is a variety of activities for preschool through 2nd or even 3rd grade.
The book list includes books we were able to obtain from our public library and Amazon. You do NOT need any of these books to complete the activities. A 19-page mini discovery reader is included.
What's a mini discovery reader? It is a 25-page and under book you and your child assemble. It contains facts and photos and is written in an age-appropriate tone. In this unit, the mini discovery reader is a half-page size (8.5 x 5.5). A cover is included for your child to color (optional).
Add to Cart