How To Teach Kids To Code
Coding is quite the buzzword these days. It is, in fact, everywhere. But, what is it? Coding is computer programming. It is the language that computers, apps, devices, etc. use to communicate. Coding makes everything work from our laptops to our cell phones to our cars to our refrigerators work. Basically, we can thank coding for our modern conveniences and way of life.
I remember taking my first computer coding class. It was the 80's. The coding language was DOS. It might have well been Egyptian hieroglyphics. It was not intuitive and so difficult to learn. I never understood it. I hated it and I'm pretty sure it hated me or at least acted like it. It was the lowest grade I ever received.
That experience soured me for computer programming. If it even looked like coding, I ran. So when I started to see all the interest and push for kids to learn to code, I thought the whole notion was crazy. How are kids going to learn to write computer code and how exactly are we going to get them to like it?
How To Teach Kids To Code With Bitsbox
Luckily, computer programming and technology have come a long way since DOS. We have now have laptops, cell phones, the internet, and apps.  A lot of it is run by Javascript. Javascript is the language of apps and the internet, and it actually makes sense. I mean, a kid could use it!
As a homeschool parent who lived through the DOS era and has the mental scars to prove it, I know my children should learn to code, but I don't know how to teach kids how to code! I have been searching for resources that will both teach my kids and not bore them to death. Bitsbox has been on my radar, so I was thrilled when they asked us to to try our their subscription service that promised to teach kids how to code apps and have fun doing it.
When our first Bitsbox arrived, I was amazed by how much was packed into the box. There were Javascript coding instruction cards, stickers, and even an origami kit.  (I loved the fact that there was an off-line, hands-on component to the deluxe kit we received.)  Everything in the box was animal themed. (A huge hit with my kids.)
Teaching Kids How To Build An App
If you have read many of our reviews here on The Homeschool Scientist, you know my kids are hard to impress when it comes to educational resources that are supposed to make learning fun. They can smell an educational toy a mile a way and are automatically on the defense.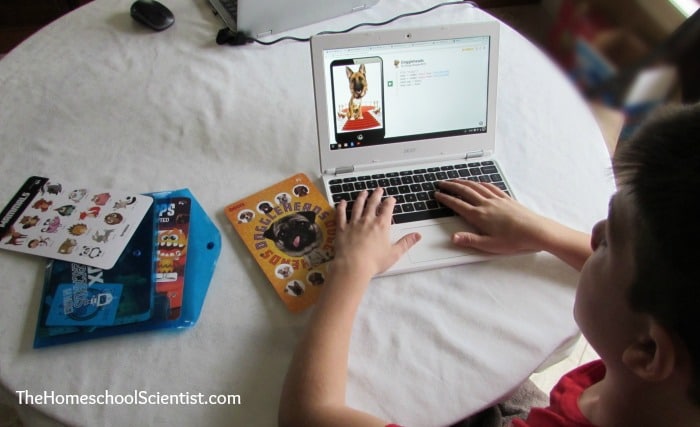 That's why I was so surprised when my 11 year old son spent an entire afternoon building apps with Bitsbox! Within minutes of sitting down with the instructional cards, he had built his first app. It wasn't long after that he had learned to modify that app and build on additional functionality.
Bitsbox not only made Javascript coding simple and easy to understand, it piqued my son's interest with fun activities that he could modify to fit what he liked.
Lots of resources and box kits are one time only projects. Bitsbox contains enough project ideas to keep kids creating apps until the next box of the subscription arrives and beyond.
How To Get Your Own Bitsbox
Bitsbox can be ordered as a one-time app coding kit or as a monthly subscription. Once your kids start they most likely will be like my son and not want to stop, so go ahead and get the montly subscription. Use my special discount code SCIENTIST20 when you order and get 20% off the first payment of any Bitsbox subscription. (The coupon does not apply to subscription renewals or one-time product shop. All subscriptions automatically renew on the 1st of every month.)
To learn more about Bitsbox:
Follow Bitsbox on social media: