Benefits Of BJU Chemistry
The thought of teaching high school chemistry is enough to make many homeschool parents search for the nearest co-op or enroll their kids in traditional schools. I have heard many parents say 'We love homeschooling, but those high school science courses…."
I am betting if I told these parents there was a way to have all the resources they need to make them a successful homeschool high school chemistry teacher they might change their minds.
This post contains affiliate links.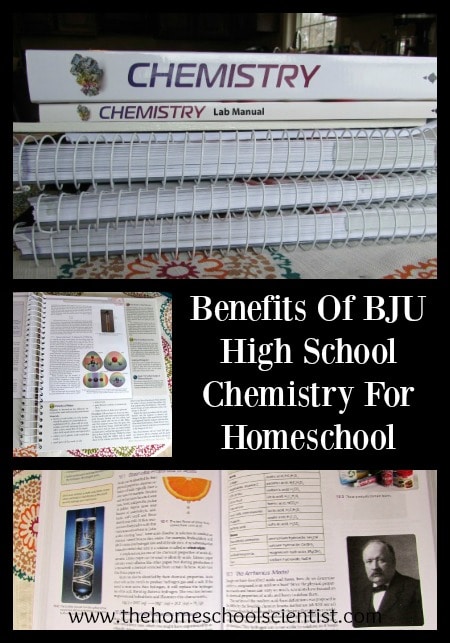 BJU High School Chemistry
I've been curious about BJU science courses for a while and I recently got my hands on the BJU high school chemistry program. I thought it would consist of a textbook, a test packet, and maybe, a lab manual. It was so much more.
BJU high school chemistry curriculum set contains:
A student textbook

A teacher's edition textbook and CD

A student lab manual

A teacher's edition of the lab manual

Printed tests and tests answer key
This is virtually everything you need to be able to successfully teach your child high school level chemistry. The only thing missing is the lab supplies. The supply list for this is located in the teacher's lab manual and complete supply kits can be ordered from various suppliers.
Overview Of The Textbook
I am a visual learner, as is the majority of students. As a visual learner, I am first drawn in by the colorful images and margin "bubbles" used in the textbook. These are great learning aides. They allow easier and/or deeper understanding of the information in the text.
As far as the text, here are some features that I found as real benefits of the BJU Chemistry curriculum.
Clearly defined learning objectives at the beginning of each section make it easy for students to determine if they learned what they needed to learn from their reading

Lots of visual, photos, diagrams

Study guides at the end of each chapter for students to review before test is administered

Problem solving strategy bubbles give students extra tips and advice to figuring out problems given in the text

Examples of everyday application of what is being learned in the text

Scientist and career information

Lots of hands-on lab activities

Teaches critical thinking through review questions, quizzes, tests, and labs
Benefits Of Teacher Manuals
One thing that really sets BJU chemistry apart is their teacher manuals for both the textbook and lab manual.. Instead of spending tons of time, energy, and stress trying to figure out how to teach, these manuals contain all the information, tips, and advice you need.
These are some of the benefits I see to the teacher manuals:
Contain "how to use this book" sections that basically tell you how to teach this course

Walk parents through each page of the text and lab manual

Suggest ways to encourage critical thinking on the part of your student

Give extra information that may help the student understand the information easier

CD-Rom includes extra visuals and problems

Contains extra project ideas to make the study come alive or for further exploration

Take the fear out of teaching high school chemistry
Lab Manual
I am a big proponent of lab manuals. Recording experimental procedure and observations are critical in scientific study. Teaching this helps not only obtain correct, reproducible results in your experiments, it helps with logic and reasoning skills.
The BJU lab manuals guide students in the process of recording this information with questions that help them pay attention to details and be able to think critically about what they observed.
Christian Worldview
BJU is a Christian publisher whose goal is to produce well-rounded students by stressing three main values in their curriculum—biblical worldview, sound education, and joy of learning.
In the BJU high school chemistry curriculum, their objective is to teach chemistry in a way that delivers sound science, as well as how to view this science from a Christian Biblical worldview.
Last Word
If you are nervous about teaching high school science to your home educated children, take a look at BJU homeschool science. I was very impressed by the chemistry curriculum. It is comprehensive, yet set up to help homeschool parents and their children succeed.
For More Chemistry Resources….