Central Illinois Staycation Ideas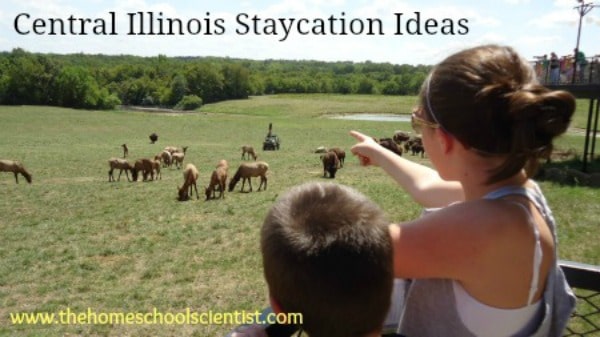 While lots of us are booking vacations that will take us far from home this summer, we often forget there are probably lots of great attractions in our own area of the country. I'm sharing some great staycation ideas for Central Illinois.
Whether you live here, are traveling through or are choosing Central Illinois as your destination, here are some FREE and cheap family attractions you won't want to miss!
Nature
Starved Rock State Park – This is a beautiful park full of canyons and waterfalls situated on the Illinois River. Great hiking, wildlife viewing and camping.
Matthiessen State Park – Great hiking and wildlife among more canyons and waterfalls in LaSalle County, Illinois.
Rock Island Trail – This former rail line is now mostly paved and stretches for 26 miles from Alta, in Peoria County, to Toulon, in Stark County.  Restored prairie grasses and canopies of trees line this easily acessible trail.
Peoria Park District Hiking Trails – The Peoria Park District has many well kept trails of various difficulties and terrains.
Sugar Grove Nature Center – Enjoy this McLean County interpretive nature center's many programs with your family. Admission is free.
Illinois River Road – Along the Illinois River Road National Scenic Byway you will enjoy the living history of the Illinois River region.
Wildlife Prairie State Park – This 2,000-acre zoological park is home to over 50 different species native to Illinois. Bison, elk, bobcat, black bears, cougar, otter and more can be seen in their natural habitat. A must see!
Peoria Zoo – The Peoria Zoo has recently doubled in size by adding an incredible Africa exhibit. Fun place to spend the afternoon.
Forest Park Nature Center – This 540 acre Nature Center and Preserve features a visitor center, 7 miles of hiking trails through various habitats, and educational programs.
Educational
Abraham Lincoln's Home – Every school kid in Illinois has been here. You should go too! -Springfield, IL
Lincoln's Tomb – An amazing memorial to one of our greatest presidents in Springfield, IL
Lincoln's New Salem State Historic Site – This is another popular school field trip site that is great for all ages.  Located 20 miles north of Springfield, New Salem is a living history site recreated to look like the town of New Salem at the time a young Abraham Lincoln lived and worked there.
Dana Thomas House – A Frank Lloyd Wright designed house in Springfield, IL is open to the public for tours.
Wheels O'  Time Museum – This museum has a huge collection of items representing transportation, industry, farm and home life, as well as entertainment, from times past.  There are many interactive exhibits, as well. – Peoria, IL
Children's Discovery Museum – 3 Floors of hands-on learning fun for kids  in Normal, IL.
Bishop Hill – Tour this historic Swedish village built to be a utopia on the prairie. Shops, restaurants, museums, galleries and events all celebrating Swedish culture. – Bishop Hill, IL
Caterpillar Visitor's Center – This new attraction documents the history and innovation of the Caterpillar company. There are hands-on activities for the kids. Kids are free with a paid adult. -Peoria, IL
Dickson Mounds Museum – (Currently Closed) This museum is one of the major on-site archaeological museums in the United States. Located on the Emiquon Nature Preserve in rural central Illinois, this is a must see for anyone interested in Native American history.
Just For Fun
Red, White and Boom Fourth of July Celebration – This free Independence Day celebration on the Illinois Riverfront in Peoria and East Peoria, Illinois boasts the largest fireworks display in the state. The celebration, also, includes concerts and food vendors.
Peoria Chiefs – Enjoy our national pastime with Class A St. Louis Cardinal affiliate the Peoria Chiefs. There are family specials and events all summer long.
Not Free or Really Cheap But Totally Worth It
Abraham Lincoln Library and Museum – Learn about one of our greatest presidents in this multimedia experience in Springfield, IL.
Peoria Riverfront Museum – Read about our experience at the Peoria Riverfront Museum
Spirit of Peoria sight seeing cruise – Take a ride on a real paddleboat for an afternoon tour of the Illinois River. – Peoria, IL
Wheels O' Time Museum – The mission of this museum is "to provide a facility where folks of all ages can see and hear, and sometimes touch, items representing transportation, industry, farm and home life, as well as entertainment, from times past". There are several buildings packed with interesting exhibits and antique cars. My kids love it!