The Educational Chemistry Game Your Teen Will Want To Play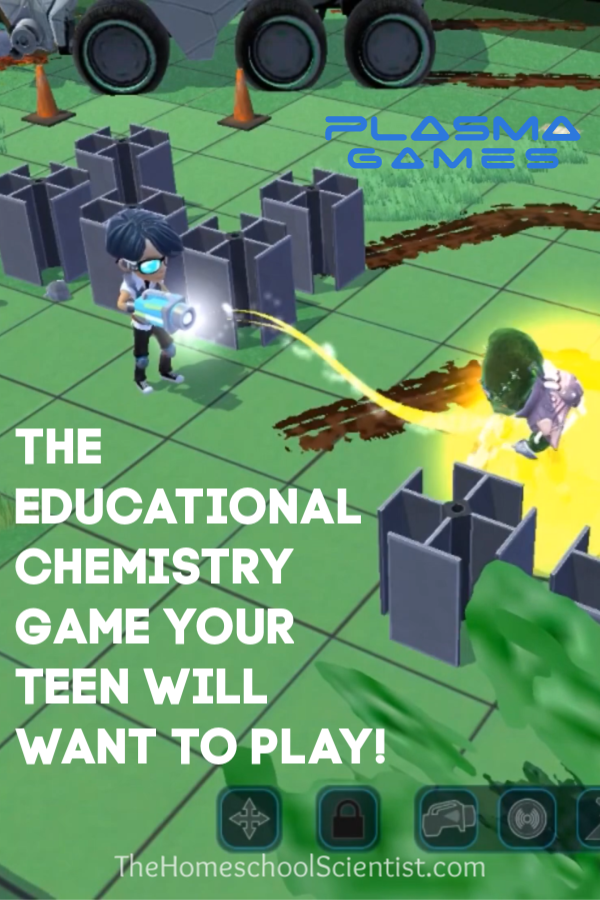 Disclaimer: I am so excited to share this post with you. It is sponsored by Plasma Games. This is a new company with the goal of instilling passion for STEM in your kids through high quality video games. Their first release, a chemistry game called Sci-Ops:Global Defense, is getting ready to launch. Let me tell you all about it.
As a homeschool parent, you serve as parent, teacher, and guidance counselor. Your role is to not only create educational opportunities for your kids, but to let them explore subjects that could open up excellent careers for them in the future.
There is no doubt that you have noticed the recent emphasis on STEM education in the US. In order for our country to keep up in our ever-changing, technical world, we need people with Science, Technology, Engineering, and Mathematics (STEM) education and skills.
According to the  U.S. Bureau of Labor Statistics, overall US employment will grow by 7.4% between 2016 and 2026, while jobs in STEM fields are expected to grow by 10.8%. And it's not only the number of STEM jobs that will be available in the future that is exciting, it's the potential salaries associated with them that it worth noting. The U.S. Department of Commerce reports that those working in STEM fields earn between 29% and 39% more per hour than non-STEM employees with equivalent educational levels. The guidance counselor part of this homeschool mom thinks this makes STEM fields worthy of serious consideration by her kids.
While all areas of STEM are worthwhile exploring, let's look at chemistry. Of the highest paying college majors, the top 5 are chemistry-based. Growing energy, pharmaceutical, and other chemistry dependent industries are essential to our economy and cannot be easily off-shored or automated. They are here to stay. This means the highest paying and fulfilling jobs with the most opportunities require a solid understanding of chemistry. 
The problem that I see coming is that polling has shown less than 1% of high school students say chemistry is their favorite subject. This prevents them from even giving chemistry a chance and robs them of career opportunities in the best possible fields without them knowing it until it is too late.  We need to find a way to spark their interests in chemistry if we are to stay true to our mission to prepare our students for the real world.  
We need to make chemistry cool. But how?
New Ways Of Teaching Chemistry
When it comes to chemistry, let's face it, the subject can be difficult to comprehend. Chemistry has its own language and symbols. Plus, it has the whole math component. It must be taught in a way that promotes understanding of each of those concepts, while keeping the attention and interests of the students.
In traditional schools (and the way most of us were taught), most upper level subjects are presented in the textbook and lecture method. This is where the teacher summarizes what the students have read in their textbooks and offers a bit more explanation or examples.
Lectures are great when you need to expose a large number of students to the same information at one time. The problem with the lecture method is that it is a passive form of education. The students are merely taking in information to be memorized for a test, not necessarily understood nor owned.
Education has changed. Kids have changed. The whole world has changed. The STEM subjects that need to be prioritized today do not line up with the old lecture model. STEM subjects are living, breathing, active disciplines that demand understanding. They are, also, exciting areas of study that are pushing the boundaries of technology and science. That excitement needs to be conveyed to students to pull them in and get them invested in an area of STEM that they can relate to.
Students don't get excited about boring lectures and lifeless textbooks. They want to be engaged and see how subjects relate to the real world. And, they want information presented in ways that appeal to them. Our educational methods need to reflect that.
Teens And Video Games
A 2018 study by the Pew Research Center  found that 90% of teens played video games. That number rises to 97% when you just factor in boys. It's safe to say that teens love their video games.
Ask any teen to explain the intricacies of their favorite video game's storyline or their strategy for completing their current level and you will be amazed at how much they have learned from the game and how much they understand.
Ask the same teen to explain the chapter they just read in their chemistry text. You will most likely be granted a blank stare.
What if we could merge the two? What if we could take the information from the chemistry text and use it in the storyline and strategy of their favorite video game? That would be perfect!!!
Educational Video Games
Over the years, we have tried and reviewed dozens of educational video games. This was fine in their elementary years. We managed to find some really good age-appropriate video games that the kids both enjoyed and learned from. When targeting that age group, the graphics do not have to be overly sophisticated and the storylines can be simple. The bar is not all that high.
As the kids got older, they begged me not to make them play any more educational video games. I even offered to pay them for the ones I was reviewing for companies and they refused.
The problem was that as the kids got older their gaming systems and video games got more advanced. The games became faster-paced with amazing graphics and complicated storylines and strategies. The characters became life-like and had personalities. You could tell the huge money the companies were pouring into these games.
The low-budget, educational game market just couldn't keep up. The educational games were slow with boring storylines and lame "adventures".  My kids could spot an educational game a mile away and would run.
So when I was approached by Plasma Games to take a look at their new game, Sci-Ops: Global Defense, I almost didn't reply to the email. My thought was "here's another boring educational game developed by some homeschool dad in his basement that really won't teach anything." But, I thought I would click the link in their email and take a look anyway. I like to know what's going on in the educational game world.
Um….woah.
From first glance, I could see that Plasma Games was different. First off, it wasn't designed by a dad in a basement using out-dated graphics. Plasma Games has an entire team of STEM professionals, game developers, and educators who have worked to make every aspect of the game the same quality as your teen's favorite Xbox game.
Plus, the new Sci-Ops game already has research results from a study conducted in classroom settings. Guess what. The students LOVED it! And, what's better than that? They actually learned something from the game while showing increases in STEM motivation! 
Gasp!
It's true.
The Chemistry Game
Sci-Ops: Global Defense is a full turn-based strategy video game with state of the art graphics, complex storylines, and an interesting twist.
It is a chemistry game!
This video game is truly the fusion of exciting game play and science. Sci-Ops takes kids on an adventure to save scientists and engineers from aliens. Along the way, they need to learn chemistry concepts to complete their missions. The storyline, also, includes personal and professional information about the characters, so kids can learn more about in-demand STEM careers and opportunities.
The concepts presented in Sci-Ops are based on the high school chemistry and physical science learning standards of most states. The game covers about a third of the concepts covered in a high school chemistry curriculum, and all of the chemistry-portions of high school physical science curriculum. (Future episodes will cover additional standards.)
The remarkable thing is that these concepts are taught seamlessly throughout the game. Videos, simulations, built-in textbook, story-driven content, and real world technologies present chemistry in such a way that kids don't even realize they are learning. They are just having fun using their new-found knowledge of noble gases and electromagnetic waves to create lasers to shoot aliens and figuring out which transition metals have the right properties to create protective armor. There is even research to back it up.
Pilot studies were done using nearly 5,000 students and 71 teachers in 48 schools across 12 counties in North Carolina. The students were in 7th grade science through 12th grade AP Chemistry across all genders, races and socioeconomic status.
Independent analysis by a team of NSCU professors showed the following:
19% average boost in correct responses to questions on North Carolina high school chemistry tests after just 30 minutes of playing Plasma Games
72% of the students liked Plasma Games and wanted to use it in their classrooms
100% of teachers wanted to use Plasma Games in their classrooms
+3-7% increases in students' self-confidence with and motivation in chemistry and STEM
Try The Sci-Ops Chemistry Game For Yourself
Sci-Ops is brand new. I mean so new it hasn't even officially been released yet. But, I am giving you the scoop. If you act fast – like today fast- you can get an early access subscription. The one-year subscription price is quite the deal. I told them they were crazy. This game is really worth so much more.
Then, I learned that Plasma Games was offering an early release subscription that is an INCREDIBLE deal. Click over to Plasma Games to check it out and get your early subscriber access.
Connect with Plasma Games on social media to learn more about them and to be the first to know about future developments.
Website
Instagram
Facebook
Pinterest
Twitter
LinkedIn
Discord