Bees and Insect Activities for Kids – Free Download
In the spring summer, our backyard is teeming with insects. From flies to butterflies to crawling insects.
Our family enjoys planting native flowers and attracting pollinators each spring and summer. Many entomology lessons have been learned in our vegetable garden–Ugh! Squash beetles!
Bumblebees love our flowers in the flower beds and carpenter bees love to try and burrow into the posts of our screen porch.
Bees and Insects Activities for Kids
We have put together this study of bees, with some insect information tossed in. When you download our free 42+ page lesson resource, you'll get the information below, plus MUCH MORE. Activities cover a wide range of grades, with a few fun activities for preschool too! But this is definitely an elementary grade resource up to 5th grade.
You can download the 40+ page FREE lesson, printables, and worksheets below.
Bees Commonly Found In The U.S.
There are over 4000 native species of bee in the United States, and 20,000 bee species worldwide. This does not count the honey bee. Honey bees are not native to the U.S. They were introduced by European settlers in 1622. Although, now honey bees are an important part of our ecosystem.
Let's learn about the most common types of bees found in the U.S. You probably have many of these in your backyard and might not even realize it.
Check out the pollen stored on the pollen baskets of this bee.
Bumble bees – We all know, and sometimes fear, bumble bees. When we think of bumble bees, we think of large, fuzzy, black and yellow. Did you know that while all bumble bees are mostly black, not all are yellow? Some bumble bees have white or orange coloring along with the black. There are over 40 different species of bumble bee in the U.S.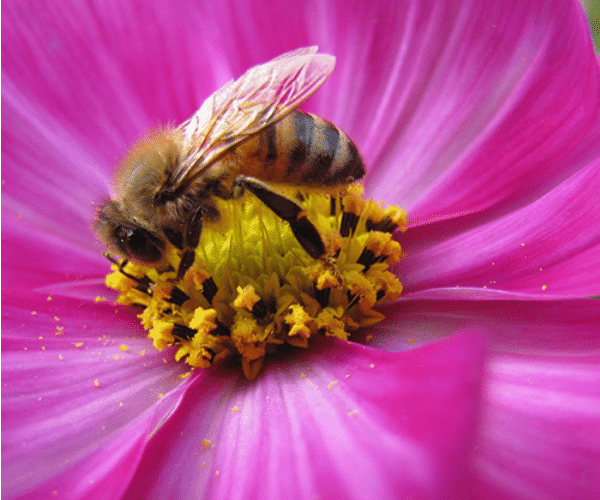 Honey Bees – Honey bees live in large colonies and produce honey from the nectar of flowers. While the honey bees collect the nectar they spread pollen, making them very important pollinators.
Carpenter bees – Carpenter bees look very similar to bumble bees. They black and yellow and about the same size as bumble bees. When trying to identify carpenter bees, the main difference between them and bumble bees is while bumble bees are fuzzy all over, carpenter bees have a hairless, glossy abdomen.
Carpenter bees get their name from the fact that they burrow into wood to lay their eggs. We find them near our wood play set and on our front porch every spring trying to make their nest.
Cuckoo bees – Cuckoo bees are mostly hairless bees with red, yellow, or white markings. Unlike other bees, the cuckoo do not serve as pollinators. They do not have the structures on their legs that other bees have to carry pollen. This is because they do not need to collect pollen to feed to their young. Cuckoo bees are parasitic. They lay their eggs in the nest of other bees and let them raise them.
Sweat Bees – Sweat bees are among the most beautiful species of bees. Their colors range from metallic green to blue to gold. These are usually solitary bees and do not form colonies.
Benefits Of Backyard Bees
Some people might see bees as a nuisance, mainly because they fear getting stung. Bee stings are actually rare. Consider the number of bees around us in nature all the time and the fact that half of them (the males) don't sting at all.
The truth is that bees are very beneficial to our environment.
Pollination – Bees are responsible for the pollination of many flowering plants, including many crops that make up our food supply. According to the American Beekeeping Federation, most of our country's crops wouldn't exist without bees to pollinate them.
Produce Food – Americans love their honey. In 2013, honey produced in the U.S had a $317 million crop value. According to the National Honey Board, the United States consumes 450 million pounds of honey per year. That puts the U.S. per capita consumption of honey at 1.3 pounds per year. Honey is actually imported from around the world to meet that demand.
Environmental Indicators – Bees and bee products can be tests for environmental pollutants. Bees gather heavy metals and chemicals from the air on their hairs. They take these back to the hive where they become part of the hive or the honey. These products can be tested to determine environmental levels and the amounts of chemicals going into our food supply.
Learn More About Bees and Insects – Bee and Insect Activities for Kids
Look around your backyard. What bees do you see? Look on the flowers, on the ground, in the trees, and around wooden structures. Use a bee guide to identify the bee.
Download our FREE 42+ page bee and insect lesson by inputting your email below. You will bee added to our email list. But we promise to only send you good stuff! You may unsubscribe at anytime by clicking the unsubscribe link in our emails.
This FREE Resource was created by TheHomeschoolscientist.com and is
Sponsored by CTC Math
Want to learn more about honey bees? Check out this honey bee Pinterest board.
Other backyard bee resources:
More Backyard Science