*This post contains affiliate links.
The fall weather here has been wonderful – perfect weather for getting outside for a Fall tree study.
Sketching Plant Parts
We started by taking a look at one of our house plants and naming all the parts my son had just read about. After identifying the parts, my son sketched and labeled the plant on paper for his science binder.
Bark Rubbings
The next phase of our plant study took us outdoors to study the largest plant in our habitat, trees. My son made some bark rubbings, and for the first time, he noticed that the bark is so different from tree to tree. Some trees have thin, smooth bark with just a few rough spots. Other trees have thick, deep, furrowed bark. We added the rubbings to the science binder, as well.
Collecting Leaves as Part of a Fall Tree Study
When we collected leaves, we tried to get green leaves and leaves that were turning color from the same tree so we could compare them. My son noticed how different tree leaves were turning different colors. That led to an interesting conversation about pigments with my 6th-grade daughter.
She explained to him how chlorophyll makes the leaves green in the spring and summer, but in the fall, the lack of sunlight and colder temperatures cause the chlorophyll levels to drop. When the chlorophyll fades, the other pigments (red, orange, yellow, etc.) that were there all along, but hidden by the chlorophyll, start to show.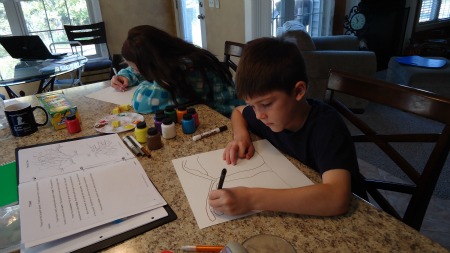 Art Project
All the beautiful colors of the leaves inspired both kids to do a couple art projects.
The kids both drew brown tree trunks and added some leaves in various colors found in nature.
My daughter found some leaf stencils and filled them in with watercolors and sharpie markers.
Unit Studies