Halloween Science: Static Electricity Ghosts
How about some safe, spooky Halloween science fun? Tell your kids they can create their own ghosts and make them move without touching them. They will freak out! Here's how to do it.
Halloween Science Supplies
This science project has a short supply list. You probably have it all on hand already.
This post contains affiliate links.
Halloween Science How-To
Setting this science project up is easy. The kids can do it themselves. Just supervise as needed.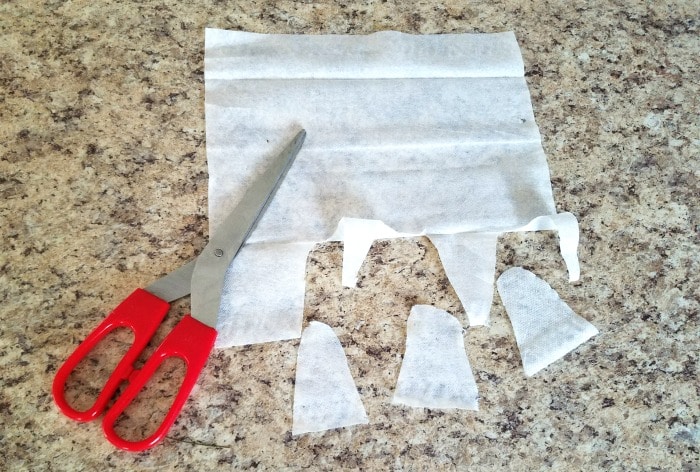 Create your ghosts by cutting small ghosts out of the tissue paper. If you are using double-ply Kleenex, separate the two and just use one.  You draw on th eyes using a black marker.
Tape the bottom of your ghosts to your work surface.
Blow up the balloon and tie the end.
Rub the balloon rapidly on your hair for 15 –  20 seconds.
Hold the balloon a few inches above the ghosts and lower until the ghosts begin to rise. Slowly pull the balloon up so that the ghosts are standing up, but not touching anything.
[adrotate banner="57″]
How Did That Happen?
When you rubbed the balloon on your hair, the balloon picked up electrons from the hair and the atoms of the balloon became negatively charged. The positively charged atoms in the paper were attracted to those negatively charged atoms of the balloon. When they got close enough to each other, the attraction between the atoms was so great that it overcame the force of gravity and caused the ghost to lift off the surface and to be held there.
More Halloween Science From The Homeschool Scientist
12 Haunted Science Experiments For Kids
Halloween Science Pinterest Board
Halloween Science Blog Hop
Want more Halloween Science ideas? Check out these awesome projects from some other science-loving bloggers.
Fluffy Zombie Slime – Little Bins for Little Hands
Discovering a Pumpkin: STEM Investigation – Share it! Science
Halloween Fun:  Spider Science Activities for Kids – Growing With Science
Halloween Ghost Balloons – Mama Smiles
Bubbling Pumpkin Experiments – Preschool Powol Packets
Halloween Robot Spider Craft – Inspiration Laboratories
Halloween Rock Painting for Kids using Physics – From Engineer to Stay at Home Mom
Edible Candy Corn Slime – Teach Beside Me