Identifying Birds, Nests, And Eggs
This post contains affiliate links.
Birds have to be my favorite animal to study. I know they aren't warm and fuzzy. I didn't even pay much attention to them until I was in college. That's when I started to really notice them and started identifying birds. Why?
What Is So Special About Birds?
I grew up in a rural area. My family farmed and we had lots of fields and forests to explore. I grew up in and around nature. I recognized sparrows in the barns, hung bluebird houses on the fence posts, and cleaned out the martin houses each fall. We had chickens, ducks, and guinea fowl running all over. I know my birds.
It wasn't until I really started to notice the shear number of bird species that visited our plot of land and how different species visited at varying times of year. I started to realize that the number of quail and whipporwhill was markedly lower than when I was younger. Birds started to become a wonder to me.
Birds are fascinating to study for many reasons ranging from practical to strategical. I addressed the following in a Why Study Birds? post you can go back and read for more information about each point.
Birds are easy to find.
Birds are beautiful.
Birds can fly.
Birds are diverse.
Birds can serve as important environmental indicators.
Fluctuations in bird populations can indicated ecosystem changes.
How To Study Birds?
One of the best things about studying birds is that you only need binoculars and a bird field guide. I recommend starting with good binoculars to cut back on the frustration factor of cheap ones. This goes the same with the guide book. For adults, I recommend Petersen's Field Guide To Birds or the Audubon Society Field Guide To Birds. I have had mine for years and they have been all over the country with me. You can also use any number of birding apps on your phone to help identify birds.
For young birders, I recommend Birds, Nests, And Eggs by Mel Boring. This is a wonderful, illustrated guide book to common North American birds that describes not only the birds features, but their habitat and the sounds they make. These are very important, especially when some birds are elusive and can be seen and not heard. This helps keep young birders from being discouraged.
Birds, Nests, And Eggs, also, describes birds' nests and eggs. How many times have you been out with your children on a nature walk or in the backyard and found a bird nest in a bush or one that had blown out of a tree? Have you ever found a bird egg in the grass and wondered what bird it came from? This book can help solve those mysteries.
Children can learn about how different species of birds build their nest using different techniques and materials. Sometimes, it's just as exciting to find a new bird nest as a new bird. It's bonus when you can find eggs in the nest!
Observe Birds
Once you have your binoculars and your guide book, you need to find a good place to observe. You need to observe birds from a close vantage point where you can see them, yet far enough away so that you can view them without scaring them. Binoculars come in handy so you can observe the birds from a farther distance. You can view birds from your kitchen window, a park bench, or sitting on a tree stump. You might want to bring along a sketch pad or journal to record what you see. Notebooking Pages has awesome bird journal printables that we have used many times.
Identifying Birds
Once you have your spot all set to observe the birds, it's time to identify them. This is where the guide books come in handy. Use them to identify the birds you spot. The Petersen's bird guide and the Audubon guide have check lists inside them to record the species you identify.
Make Your Own Suet Feeder

In the take along guide book Birds, Nests, And Eggs, there are several hands-on activities. One is making your own suet feeder. Suet is animal fat that has been rendered and formed into blocks or cakes. It is a high fat, high protein foot source that is perfect for the winter months.
You can find prepared suet cakes in stores that sell bird food. Often bird seed, honey, or fruit is added to the suet for more nutritional value and to attract more types of birds. There are special suet feeders and baskets that you can buy for your suet. My favorite way is to make our own just like they did in the Birds, Nests, And Eggs book.
All you need is a plastic mesh sack like the ones onions or oranges come in and a suet cake. The mesh sack needs to have a hole in it large enough for the suet to fit through it, but small enough that the suet won't fall out. This works best if the hole is near the top of the sack.
Remove the suet cake from its wrapper. Place the suet inside and tie or fasten the sack around a tree branch. I used a large paper clip to do the job. You will attract birds like chickadees, woodpeckers, blue jays, nuthatches, titmice, and other birds.
Check out this post for more DIY bird feeder ideas!
Welcome to The Nature Book Club Monthly Link Up No 1.

The Nature Book Club is a monthly link up beginning on the 20th day of each month. It is devoted to connecting children to nature. There is a theme for each month in 2018. We welcome your nature book and activity related links!
January Nature Theme: Winter Bird and Nests
This month's theme is winter birds and nests.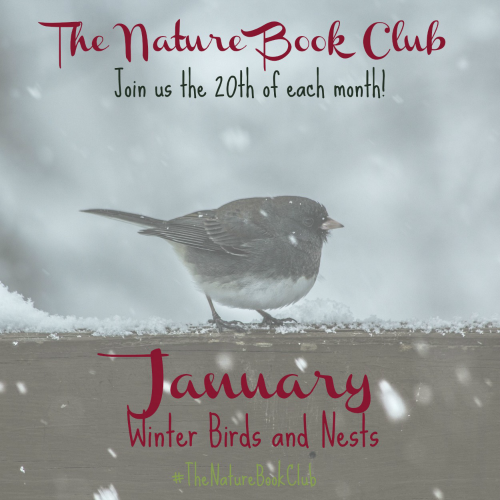 The Nature Book Club is brought to you by these nature loving bloggers and your cohosts! Be sure to follow them.
Something 2 Offer
Winter Bird and Nest Scavenger Hunt
The Usual Mayhem
The Boy Who Drew Birds – Free artist study set (John James Audobon)
Preschool Naturally
Whose Nest Is This? – Nest Building Activity
Tina's Dynamic Homeschool Plus
(Backyard Bird Series) Cardinals – Free Northern Cardinal Unit Study & Lapbook.
Rule This Roost
Fine Feathered Friends: All About Birds – DIY Bird Feeders
Hide The Chocolate
Birds Wear Mittens – Migration
Forgetful Momma
Snowy Oil Craft
Table Life Blog
A Nest is Noisy – Art Project.
Eva Varga
Ravens In Winter: Nature Study Activities – Winter Bird ID
Wind in a Letterbox
Birds for Beginners in Southern Africa – Nature Journal Entry
Rainy Day Mum
Coming Home – Needle Felted Robin
Handbook of Nature Study
Backyard Birds Field Guide for Young Naturalist – Black and White Birds and Feet Types
The Playful Scholar
How To Make Suet Ornaments
Freshly Planted
Nest— Nest Weaving Nature Craft
The Nature Book Club theme for February: Small Mammals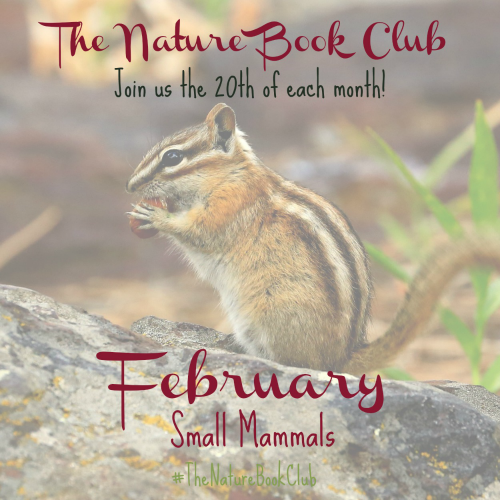 Party Rules
Easy Details to Remember
Choose an engaging nature book, do a craft or activity, and add your post to our monthly link up.
The link up party goes live at 9:00 a.m. EST on the 20th of each month and stays open until ____ .m. EST on the last day of the month. Hurry to add your links!
You can link up to 3 posts. Please do not link up advertising posts, advertise other link up parties, your store, or non-related blog posts. They will be removed.
By linking up with us, you agree for us to share your images and give you credit of course if we feature posts.That's it! Let's party