Learning Chemistry Through Real World Applications
Disclaimer: I am so excited to share this post with you. It is sponsored by Plasma Games. This is a new company with the goal of instilling passion for STEM in your kids through high quality video games. Their first release, a chemistry game called Sci-Ops:Global Defense, is getting ready to launch. 
Did you catch the educational chemistry video game post a few weeks back? The one where I told you about how your kids can learn high school chemistry while playing a video game they will want to play again and again?
Plasma Games is the real deal. Their new release, Sci-Ops: Global Defense, is a full turn-based strategy video game (like Chess) with state of the art graphics, complex storylines, and an interesting twist — it teaches high school level chemistry in the context of real-world applications and technologies!
But, the game is not just for high school students! Sci-Ops: Global Defense was tested on students ages 10-19 using chemistry standards generally taught when students are 15-17. The results? Students of all ages were able to successfully play the game AND they were all able to learn chemistry concepts!
In that post, I told you all about the need for good chemistry education and how important it is to our future economy that we nurture students to be passionate about chemistry. Plasma Games is uniquely positioned to present chemistry in a way that not only teaches your kid the concepts of chemistry, but engages them and promotes chemistry as an exciting, in-demand field that they want to be a part of.
Learning Chemistry Through Video Games
Plasma Games does this by leveraging the engaging potential of video games and transforming it into a powerful learning platform. Sci-Ops:Global Defense utilizes high-quality graphics and action that kids are used to with their Xbox and other game systems. It doesn't feel like an educational game.
The learning happens through calibrating weapons, analyzing armor, and upgrading equipment – just like the most engaging elements in entertainment-only games. The difference is that these actions are also chemistry standards and apply to real-world technologies.
In entertainment-only games, players learn things like armor protects you from magic. In Sci-Op:Global Defense, they are learning that titanium armor protects you from lasers until it heats to its melting temperature and melts off. They are learning chemistry!
Plasma Games connects your kids with chemistry in two important ways. It correlates chemistry to something they enjoy and it shows how chemistry is used in real-world applications. This is important to kids. How many times have you heard kids say (or how many times did you say it in school), "When am I ever going to use this?"
When kids play Sci-Ops, they will see firsthand how chemistry is used and, then, be given real-world examples.
How does that work? It's all in the fusion of game mechanics and chemistry concepts. You have to see it to believe it! so check it out at Plasma Games.
Real-World Chemistry
Sci-Ops: Global Defense is a turn-based strategy game (like chess). As players work through their narrative driven missions, they must complete tasks by using the materials available to them. Strategy is needed to acquire new gear and to use it properly to complete the mission. So, it is much more than a point and shoot type of game. Kids actually need to think!
In Sci-Ops, a mysterious alien race called "The Hive" has invaded our planet and captured our energy infrastructure. The player must rescue captured scientists and engineers to gain their science knowledge. This knowledge is used to learn how to use technology to complete tasks, battle the aliens, and free the planet.
For instance, one of the tools the player is given is a hand-held laser. This laser operates on the scientific principles that drive real gas lasers, like the Bohr Model of the Atom, the primary teaching tool of atomic structure. Within the context of the game, the player will learn the chemistry behind the laser through simulations, an interactive textbook, and story-driven content.
In the case of the laser, the player will learn that the energy and frequency of the electromagnetic wave that the laser emits depends on how far the valence electron falls between electron shells.  Players learn how to upgrade the element used in the gas laser and the control system of the laser to access additional electron orbits to boost the laser's power. This not only gives the player a lesson in atomic structure, electrons, quantum particles, energy transfer and engineering principles — but gives a concrete, real-world example to connect the concept to, making the lesson memorable.
The game goes even further to connect chemistry to the real world. It gives examples of how the tools and technology that the player uses in the game are used by industry. For example, lasers are used in telecommunications, semiconductors, welding, medicine and more!
As the players get excited about using their lasers and other technologies within the game, they will get more comfortable with the science behind them. This comfort level will allow them to begin to see themselves using these technologies in the world outside of the game. Plasma Games makes learning chemistry fun, accessible, and relevant to students' lives!
Sci-Ops:Global Defense introduces kids to many technologies and chemistry concepts within the game. When they have finally completed their mission, they will have covered about 40% of the concepts covered in a high school chemistry curriculum, and almost all of the chemistry-portions of high school physical science curriculum. (Future episodes will cover additional standards.)
Are Students Really Learning Chemistry?
So, in theory, the whole concept of learning chemistry from a video game that kids actually like playing sounds wonderful. No more arguing to do school work. No more boring textbooks. Real-world concepts are played out on the screen. Happy, engaged kids. Fantastic!! But…. does it really work? Can kids really learn high school level chemistry from a video game in the same way they can from traditional education methods?
Let's look at the research.
In 2019, Plasma Games conducted in-class pilots with nearly 5,000 students in 48 schools across 12 counties in North Carolina. The classes involved in the pilots ranged from 7th grade science through 12th grade AP Chemistry. The study included pre-test surveys of students and parents 2-weeks out; a 30-minute in-class demo of Sci-Ops; and post-test surveys of students and teachers.
The independent analysis by a team of NSCU professors showed the following results:
+19% average boost in correct responses to questions on North Carolina high school chemistry tests
+3-7% increases in students' self-confidence and motivation in chemistry and STEM
72% of the students liked Plasma Games and wanted to use it in their classrooms (which is more than liked chemistry class, in general)
100% of teachers wanted to use Plasma Games in their classrooms!
Sci-Ops absolutely works, and is a great new resource to help your homeschool student!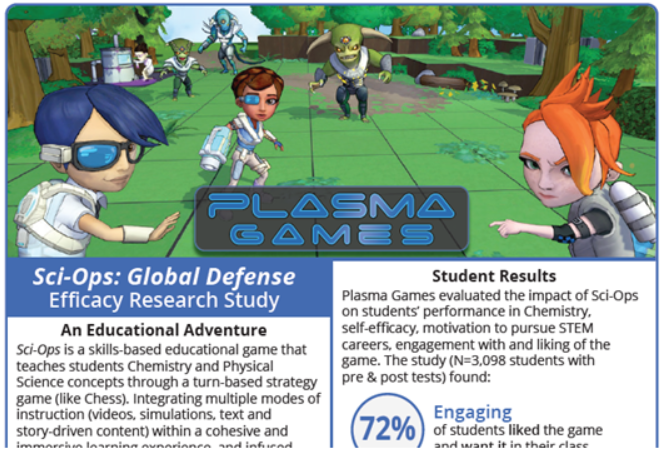 Download the white paper with more research details at: https://play.plasma.games/whitepaper
Try Plasma Games
Do you want your kids to get excited about chemistry? Looking for a way to get your kids to better understand concepts they are covering in their high school chemistry curriculum? Are you looking for ways to expose your students to in-demand technologies, college majors and careers? Are you just looking for a way to make teaching high school chemistry less painful?
Try Sci-Ops: Global Defense from Plasma Games!
If you act fast — like today fast — you can get an early access subscription. The one-year subscription price is quite the deal. I told them they were crazy. This game is really worth so much more.
Click over to Plasma Games to check it out and get your early subscriber access, today!
Connect with Plasma Games on social media to learn more about them and to be the first to know about future developments.
Website
Instagram
Facebook
Pinterest
Twitter
LinkedIn
Discord