Sand Learning Activities Your Kids Will Love!
[fl_builder_insert_layout slug="affiliate-disclosure"]
Kids and sand go hand in hand. This stuff could entertain kids for hours! Plus… if you get a little creative, you could even sneak some learning in amongst all that playtime.
To help you discover all the wonders of sand, we have compiled a list of some pretty great sand learning activities. Since we have already been learning so much about the ocean (if you have yet to read our most recent posts, Ocean Animals Unit Study and How Waves Affect Beaches are great places to start!) these ideas will fit right in. Sand learning activities are great because even if you aren't close to the beach like us, you can still enjoy playing in the sand.
Sand Learning Activities Supplies
To start, here are a few recommended supplies. You might even find that you have some of these items already sitting around your house.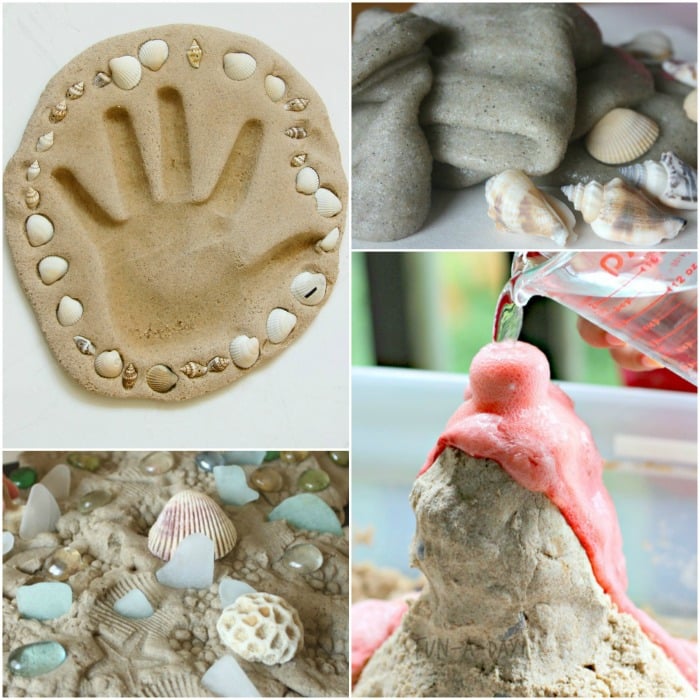 Sand Learning Activities
Underwater Magic Sand: Learn how to make sand that is water resistant! Fill up a container with water and dump in the sand. It will stay dry even though it is submerged in water! Talk about the ingredients with your kids and see if they can figure out how this sand gained its magical ability.
Sand Play Dough With Loose Parts: By using this No-Cook Play Dough Recipe you can re-create the beach by making a sculpture, complete with seashells and sea glass. Kids can make imprints of the seashells in the clay that looks exactly like wet sand. The end result is pretty impressive.
How to Make Rocks: With some pebbles, sand, and glue kids can make their very own rocks. Kids can layer the materials one by one inside of a disposable cup.
Sand Volcano: You can make a volcano out of a water bottle, sand, and a few other supplies. Pair this sand learning activity with a volcano book such as The Magic School Bus Blows its Top or National Geographic Kids Everything Volcanoes and Earthquakes.
Magnetic Sand Castle: This sand learning activity involves sandpaper! Cut out different shapes, glue a magnet onto the back of each piece, and get to work building a sand castle! And all without the sand mess. This activity gives younger kiddos the opportunity to learn about shapes and it gives older kids a way to build something from a scratch piece of sandpaper. Use a cookie sheet to stick all of the sandpaper pieces onto.
Homemade Sand Slime: Finding a spin on slime recipes is always a hit with the kids. This slim recipe calls for sand which makes for one detailed glob of goo!
Puffy Sand Paint: For this sand activity, things take a bit of an artsy turn. Have kids paint a beach landscape or even a colorful desert.
Sand & Cornstarch Dinosaur Fossils: Make your very own fossils to dig up and discover…. all with the help of cornstarch and sand. Kids will get a kick out of being paleontologists.
Weathering & Erosion: With the use of some dirt, sand, and water you can give a shining example of what takes place when the earth is exposed to weathering and erosion.
Sand Clay Handprints: Make clay handprints with some homemade sand clay so you can treasure those small hands well beyond the years that they grow. I love the way these turn out. You can even add some seashells or sea glass for embellishment.
Taste Safe Kinetic Sand: I wanted to include this recipe just in case you have small kids at home that still insist on giving everything they see a taste test.
You can also soak up some traditional sand play with this Sand Castle Kit. For younger kiddos, they would enjoy a Sand Table where they can really get down and dirty with all things having to do with sand.
As you can see these sand learning activities take us on adventure far beyond the beach. From making puffy paint to constructing an exploding volcano, kids will enjoy feeling the sand between their toes all while learning a variety of facts and tidbits.
If you enjoyed these sand learning activities, take a peek at our Sand Dollar Unit Study where you will find a ton of information on these incredible creatures of the ocean.