Why Add Art To Your Nature Study?
An important part of scientific investigations is observation. When you conduct an experiment, you observe what happens during the course of our experiment. You write down what you see so that you can use those observations to draw a conclusion.
Observations are, also, important when you are doing an animal or nature study. Those studies usually do not require experiments. They rely on what the scientist sees, hears, smells, feels, and sometimes tastes.
Related Post: Nature Observation Printables  
When observing nature, there are several ways to record your findings. You can take notes, take photographs or video, record sounds, or sketch what you see. Often, these sketches are most important. Sometimes it is hard to put into words what you are seeing and drawing it is easier. Photographs aren't always the highest quality and some details get blurred or missed.
Importance Of Art In Nature Study
Sketching, drawing, or painting nature allows the observer to not only add details to what they see and where they see it, but it allows a bit of personality to show through.
While looking at a patch of wild flowers, one observer might draw all the different flowers and grasses they see and another observer might hone in on one flower in particular and add all its details. Another observer might be more interested in the honey bee moving from bloom to bloom.
All of these records of the wild flower patch are correct, as long as the observer didn't add to what was actually present at the time. These different drawings can tell us what is important to the person drawing them and what interests them most.
Sketching nature, also, gives those who find science to structured a creative outlet. It allows them to see the beauty of nature and how their creativity can be used to study it.
A good teacher can use nature sketches to guide students into deeper learning opportunities. Students will want to learn more about what interests them.
Related post: The Link Between Science And Art
Using Art Tutorials In Nature Study
In our homeschool, we use art in our nature studies from when the kids are small through high school. We sketch sketch while in the woods or on a field trip to the botanical gardens or in the backyard. We paint or use chalk pastels to add color when we return. This adds a deeper understanding to our subjects and helps to develop an appreciation of nature.
Another way we like to incorporate art into our nature study is through art tutorials. When the kids find a topic that they are interested in or during a unit study, I like to find art tutorials to teach the kids how to better represent what they are studying.
Birds are a common subject of study around here and we have used art in our bird study many times. The kids are decent artists anyway, but when we added a chalk pastel bird tutorial their birds really came alive. Plus, the kids enjoyed their art more when their creations started to look like real life!
Recently, we have been doing an ocean/beach unit study in preparation to our family vacation to the beach. We've studied waves, sand dollars, sea shells, sea turtles, and ocean animals. Out of all the topics we have touched upon in our study, both kids have found a new interest in manatees.
I had already decided to use the Seashore Chalk Pastel Video Course and ebook during our study, but when I saw that it included a manatee tutorial, we started there.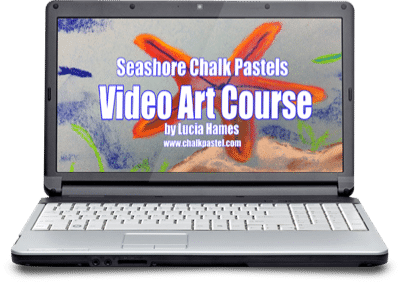 Included in this package are:
9 video art tutorials
Art at the Beach ebook with 11 more art tutorials
Step-by-step instructions
Techniques to encourage both new artists and challenge more advanced ones
Option to join You ARE an Artist Facebook group for sharing art work and asking questions.