Summer Learning Adventure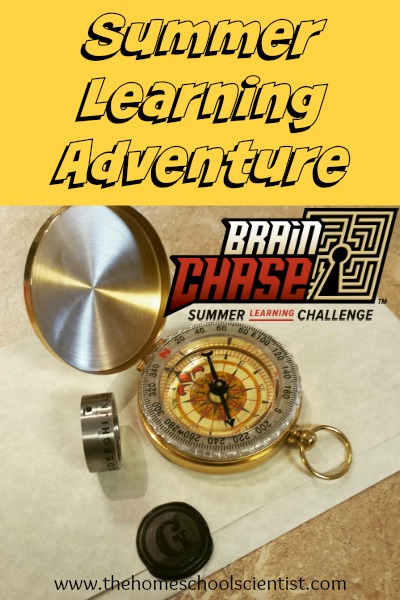 A 2011 RAND study found that by the end of summer, students perform, on average, one to two months behind where they left off at the end of the school year.
I like to think of it in terms of physical fitness. During the school year, students brains are getting a daily workout. They are in shape. Then, summer hits. They stop the work outs and their minds slowly get out of shape. By the end of summer, their minds are mush.
This is why the first month or so of school becomes a big review session. That seems like a waste of time to me, and not very fun for the kids. As a homeschool mom who works very hard on my kids' education, I really don't want to repeat my efforts or waste any valuable time.
We usually don't homeschool through the summer months. By June, we all need a break. However, I don't want mush brains when we start schooling again.
Each summer, I say I'm going to keep the kids's minds active and learning through something different and fun. I've bought those pretty enrichment books, enrolled them in the summer reading program at the library, and signed them up for "fun" summer classes through the local community college.
Those enrichment books were more like a chore to my kids. My daughter loved the reading program, but my son…not so much. We did good at starting unit studies in the summer, just not finishing them. Those "fun" classes were hit-and-miss.
This year, I found something that my kids are actually excited about.
Summer Learning Challenge
Who doesn't like a good adventure? Brain Chase offers kids a fun summer adventure that is packed with educational value, as well. Sign your kids up for this online adventure that jumps into the real world and you'll get:
5 weeks of structured challenges on external reading and math websites
Weekly writing exercises with feedback from credentialed teachers
Weekly progress reports emailed to parents
Exclusive access to an original animated adventure series loaded with hidden puzzles and clues
3 adventure tools mailed to your home to help solve special bonus challenges
Participation in a massive global treasure hunt for a golden trophy containing the key to a safe deposit box holding $10,000
How Brain Chase Works
[youtube width="450″ height="344″]https://youtu.be/6xciDyoHXz0
START THE CHASE
At 9 a.m. ET on Monday, June 22, 2015, Brain Chase: The Sunstone of Cortés begins. Adventurers log in to watch the first animated webisode and meet Mae Merriweather, the star of the show. Then they dive into their first week of learning challenges. A proprietary (patent pending) learning management system – the "Dashboard" – tracks each student's progress as they journey through the 5-week challenge.
UNLOCK THE ADVENTURE
Each week the adventurers have four tasks: read for 15 minutes per day, write one journal entry, earn 10,000 points on Khan Academy, and do one bonus challenge. When they're done, they unlock the next webisode, which contains hidden pictures, numbers, and riddles to help them guess the treasure's location.
http://thehomeschoolscientist.com/wp-admin/post.php?post=6784&action=edit#
FOLLOW THE STORY
Mae Merriweather and her friends from the Grayson Academy of Antiquities are hot on the trail the mysterious Sunstone of Cortés. To find it, they travel to the Himalayas, dive off the coast of Greece, and solve riddles. But there is more to the quest — and treasure — than they realize.
FIND THE BURIED TREASURE
The hunt for the Sunstone isn't just fiction – there is a real golden Sunstone of Cortés and $10,000 buried somewhere on Earth. Every 24 hours, adventurers can log in to enter their guess of the treasure's location. The first adventurer to guess the location within a two-mile radius travels with his/her family to the treasure site to claim the gold.
[youtube width="450″ height="344″]https://youtu.be/DAY96OgQ92w
Start Your Own Adventure
If your kids love adventure and you love homeschooling kids whose brains haven't turned to mush, sign up for the Brain Chase Summer Learning Challenge. Use the code SCIENTIST15 to get 15% off your enrollment!
Brain Chase is, also, giving away one registration to a reader of The Homeschool Scientist! Fill out the form below to enter to win!! UPDATE:: Giveaway is closed!!!!!