Solar Magnification Experiment
This summer has been HOT! I love the heat, but this is getting crazy! These 100+ degree days have made it almost too hot to enjoy outdoor activities except for the pool. You can almost feel the sun cooking your skin!
It's that very concept that gave my daughter an idea for a science experiment. Last year, we tried to burn paper by magnifying the sun's rays with a magnifying glass. We didn't get fire, but we got some charring of the paper. This summer, my daughter wondered what would happen if we used something other than paper. On our kitchen island, she spied a cherry, a tortilla chip and a cube of cheese. She grabbed them and a magnifying glass and was out the door.
Solar Magnification Experiment
Solar magnification is simply concentrating solar energy into a smaller area using a magnifying glass or something similar. A magnifying glass takes the sunlight that hits one side of the lens and concentrates it into one small area. Not only is the light much brighter in this area, but the heat created is also dramatically increased.
My daughter held the magnifying glass above a tortilla chip at a distance that created the most concentrated brightest spot of light on the chip. She held it there for just a couple minutes. (If we do this again, we will time the exposure.) The resulting heat from the magnified sunlight burned a hole in the tortilla chip.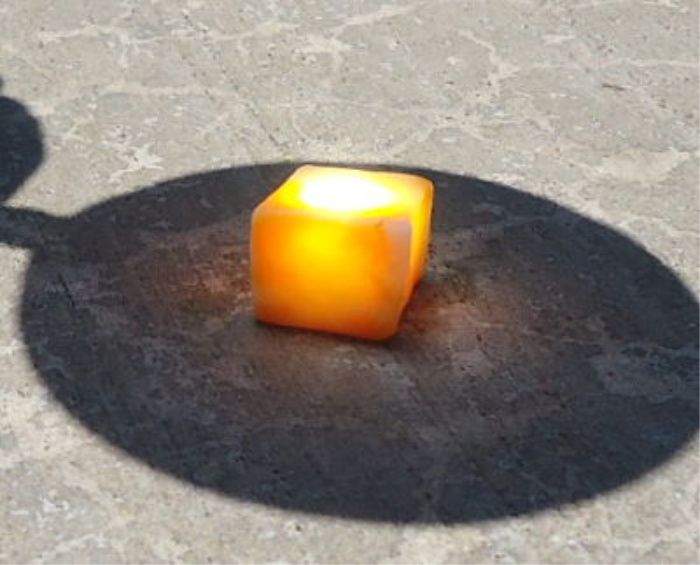 Next, we tried the same thing on a small cube of cheese. The cube actually glowed from the brightness of the suns directed rays. After a few minutes, the cheese started to soften.
The finished product was melted, bubbling cheese.
Check out the video below to see what happens when we tried the solar magnification experiment with a cherry.
I wish you could see this better in the video, but the juices in the cherry were actually boiling and bubbling out. If you listen closely to the video, you can hear it.
This was a perfect experiment to utilize the sun's rays this summer. Try this solar magnification experiment at home with other substances and see what results you get!
More Fun In The Sun Experiments And Activities
How Does The Sun Affect The Temperature
Studying The Sun For Homeschool Science
Fractals Suncatcher STEAM Activity