Enhance Your Homeschool Experience With Virtual Field Trips
One of the most exciting aspects of home education is the freedom we have in choosing educational materials and experiences for our children. We are not confined to a particular curriculum or the 4 walls of our home. The world is wide open to us.
When we started homeschooling 7 years ago, we did our book work Monday through Thursday, but reserved Friday for field trips. We visited local historic sites, galleries, museums, toured businesses, visited a landfill, toured a waste treatment facility, and more.
My kids and I really enjoyed these field trip Fridays. However, as the kids got older their academics and their extra curricular activities took more time and our Field Trip Fridays got pushed aside. There was simply no time to fit them in.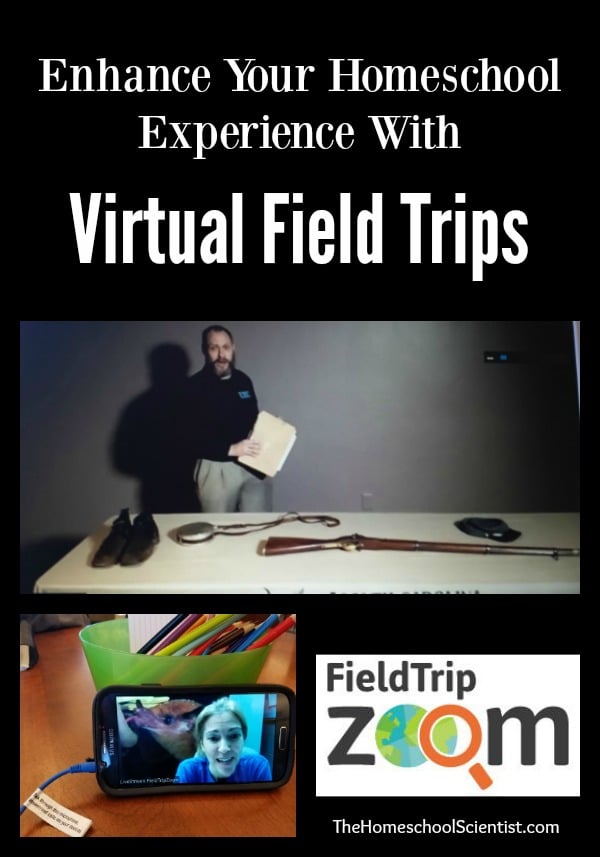 Virtual Field Trips
We have all really missed field trips and have been trying to find a way to incorporate them back into our homeschool schedule. We were excited to learn about the possibility of virtual field trips. Field Trip Zoom offered us the opportunity to attend a few of their virtual field trips on their website to see how we liked it and if we thought it would be something The Homeschool Scientist audience would like.
We have loved it!
Related post: Homeschool Field Trip Tips
The Field Trip Zoom homeschool program is perfect for us. In the past 3 weeks, we have attended live field trips in the South Carolina Confederate Relic Room and Military Museum with a Civil War expert, learned about bats and bat conservation with the Organization For Bath Conservation in Michigan, and learned about the real Pocahontas at the Virginia Historical Society – all from our hometown in Illinois.
Another great feature about Field Trip Zoom's virtual field trips is that we can be at home on the go while attending the event. For the civil war field trip, we attended from our computer at home while we sat on the couch. My daughter needed to go to the library at the same time of the bat field trip, so my son plugged his headset into my phone and watched from there.
Live Streaming Field Trips
Field Trip Zoom offers live streaming field trips. With a yearly subscription,  you can choose from many field trip options each month. You can join a couple or all.
These field trips are offered for kindergarten through 12th grade. The recommended ages of each field trip is listed on the event so you choose the field trips that are geared toward your student.
The field trips offered change each month and the themes range from history to science to geography to general interest. In December, we are excited to learn about marine life at the Alaska SeaLife Center, visit the Pima Air and Space Museum in Arizona, and to learn about Christmas traditions across Europe.
Here is a great example of the great virtual field trips you can take with Field Trip Zoom.
Take A Virtual Field Trip
If you are looking for ways to add more field trips to your homeschool, I highly recommend Field Trip Zoom. It is a convenient, cost-effective way to visit new places and learn from researchers and experts. You get an entire academic year of unlimited field trips for your entire family for only $49.95. That's one visit to a local museum for most families, not to mention the cost of gas, parking, snacks, meals, and the gift shop!
Connect with Field Trip Zoom