Why This Is The Best Time To Homeschool
*This post contains affiliate links.
Just a few years ago, homeschooling was a fringe movement. Almost everyone knew that family that homeschooled, but didn't really know them at all. It seemed so strange and somehow against the rules. These days, almost everyone knows many people who homeschool. It's not so odd now.
According to the U.S. Department Of Education.…
In the spring of 2011, an estimated 1.77 million students (1,770,000) were homeschooled in the United States. This represents an increase from the estimated 1.5 million students (1,508,000) who were being homeschooled in the spring of 2007. In addition, the estimated percentage of the school-age population that was homeschooled increased from 2.9 percent in 2007 to 3.4 percent in 2011. —Based on results from the National Household Education Survey Program (NHES)
My thoughts are that the actual number of homeschooled students in the U.S. is actually larger than that. Whatever the actual number, the fact is that home education is a growing trend and no longer on the fringe of the educational landscape.
This growth is why I think now is the best time to homeschool!
What do I mean?
More Homeschool Curriculum Than Ever
When I talk with veteran homeschool families who were among those first homeschool pioneers, there simply wasn't any homeschool curriculum. Families would use any school curriculum they could get their hands on and the library. Then, a few homeschool families started creating their own curriculum and selling it to other families. This is how many of the homeschool curriculum companies around today go their start.
Since the homeschool market wasn't very big at the time and finding homeschool families to sell to was difficult, no large companies wanted to create homeschool curriculum. Times are changing.
When someone asks me if I get my curriculum from the school district or wonders how I find curriculum (Is there a homeschool company you have to order from?), I usually plop down my 10 pound Rainbow Resources catalog and tell them, this is a fraction of what I have to choose from. Their jaws usually drop and they stutter something about not knowing. (For those of you who don't know. Their catalog is about 4 inches thick and weighs a ton. It is packed with homeschool resources.)
Right now, we are blessed with sooooo many options. Sometimes I think there are too many options. It can get confusing. We have core curriculum, lapbooks, notebooking, co-ops, online classes, and more.
The point is that this is the best time to homeschool, because we have an endless supply of quality resources to educate our kids at home. There is something (or many somethings) out there that is perfect for your family and for each of your children.
Better Than Ever Homeschool Curriculum
As mentioned before, at one time homeschool families used left-over school curriculum and whatever they could find at the library to educate their children. These days, there are so many companies that create resources specifically for home educators and many more mainstream companies starting to cater to the growing homeschool market.
This competition is keeping everyone on their toes and keeping quality high.
Homeschooling Is Going Mainstream
In our area, the park district, libraries, zoos, and museums are all adding homeschool programs right along side their other public programs. Homeschooling is no longer in the background. Organizations are involving homeschool families like never before.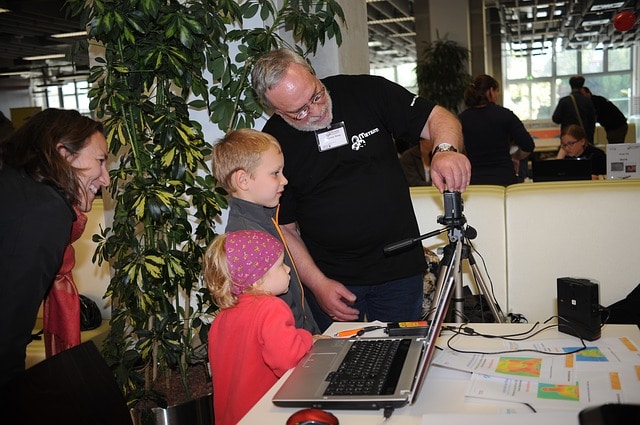 There are homeschool classes at the zoo and museum. There are homeschool sports leagues. There are programs at the libraries and organizations looking for strictly homeschooled volunteers.
More Resources For Homeschool Parents Than Ever
Curriculum is not the only resource homeschool parents need. They need advice on how to homeschool intense kids, how to teach math, how to manage a homeschool family budget, or maybe how to homeschool your autistic child. The fact is that there are many veteran homeschool parents who have been there, done that and are willing to share the wisdom they've gained.
How do you find those resources?
Your area might have a local homeschool organization or group. Get plugged in and get to know some veteran homeschool parents. Most are very willing to mentor you or just to answer your questions. We've all been there.
Another great place is your local homeschool convention. Speakers and vendors from all over then country attend those conventions and are there to pour into you. The workshops usually cover the homeschool gamut.
If you miss those speakers and workshops, many times you can buy the mp3 after the event or get a copy of their books. They are usually well priced, but they do add up. So, you might want to try looking for a homeschool resource bundle sale. With those sales, you can get hundreds of dollars of resources for the cost of just a couple if purchased separately.
Why do you think this is the best time to homeschool?