The Link Between Science And Art
We tend to think of people as logical, science types or as artsy. It is a common belief that people are either good at one or the other.
Would it surprise you if I told you that some of the most brilliant scientist in the world have been gifted artists, as well? Could there be a link between science and art? Is the study of science or art more important than the other?
 This post contains affiliate links.
Artsy Scientists
Starting with the renaissance man, Leonardo da Vinci, many scientist were also accomplished artists. Albert Einstein once said, "The greatest scientists are artists as well." Einstein, himself, played violin and piano.
James Audubon is known for his portraits of North American birds. Audubon not only studied the appearance of the birds, he recorded their habits and other details, as well. He, also, conducted the first known bird-banding experiment in North America. By tying strings around the legs of Eastern Phoebes, he discovered that the birds returned to the very same nesting sites each year.
Sir Frederick William Herschel was an astronomer and a composer. Herschel discovered the planet Uranus, the existence of infrared radiation and he wrote 24 symphonies.
The Link Between Science And Art
Science and math related disciplines are based on logic and facts. The arts are based on creativity.  Where do these seemingly opposite worlds come together? How can they not?
Albert Einstein often spoke about how his insight didn't come from his scientific or mathematical knowledge as much as his intuition, inspiration and imagination.  He is known for his quote, "Imagination is more important than knowledge". Imagination is part of creativity and our artsy side.
Scientists make observations and collect data. They come up with theories or hypotheses, and they design further experiments. Sometimes, scientists and engineers use their data to design new devices or structures.
Artists create new things with paint, paper, clay, instruments….anything. In order to create, artists need to study their subjects and their media. They need to know the subject of their inspiration and the media that they are going to use to represent their subject in order to get the desired result.
This is where the art meets science. It takes imagination and creativity to design and create anything, but it also takes data and logic. Imagine having the technology and knowledge to build an airplane or and iPad, but not having the imagination and creativity to actually design and build them. You need science and art working together.
I think it is interesting to note that in ancient Greece, the word for art was techne.  The words technique and technology are derived from techne. These words are used in art and in science.
STEM or STEAM
Our education system in the US, currently, stresses STEM (Science, Technology, Engineering and Mathematics), and rightly so. In our technology driven society, these skills are necessary. The problem is that in order to make room for or afford the STEM courses, many schools are sacrificing art programs.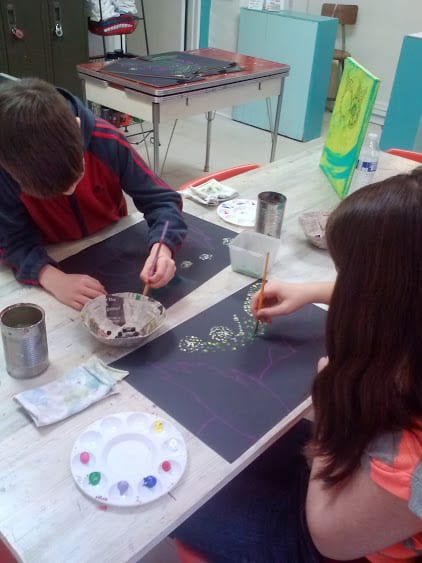 Leaving arts out of the mix makes unbalanced students. They are not learning the creative thinking skills necessary to put all that knowledge to use. It does no good to learn a bunch of facts if you don't know how to apply them. 
Related post: The Importance Of Art in STEM Driven Education
There is a movement to put Art into the STEM programs making the new program STEAM. This program would give students a good balance of science and arts.
As homeschool parents, we have the ability to create our own STEAM program. We can make sure we give our children opportunities to explore the arts. Give them the critical thinking skills necessary to process the data they will collect all through their lives.
Art Week
This week at The Homeschool Scientist, we will look at homeschool art. We will look at various types of art and give you ideas to incorporate art into your home educating.
Other Projects
Science Arts: Discovering Science Through Art Experiences (Bright Ideas for Learning)
Art and Science
Reeves Assorted 12-Milliliter Watercolor Paint, 18-Pack
Strathmore 300 Series Watercolor Paper 9 in. x 12 in. pad of 12 wire bound
Sculpey III Polymer Clay Color Sampler, Multicolor