Importance Of Art In STEM Driven Education
We live in a high-tech world. Just think of the advances in science, technology, and medicine that have taken place in just the past 20 years. Our kids can't imagine the world lacking cell phones, personal computers, and GPS that we grew up in.
Knowledge and development of technology is advancing at an unparalleled rate. To keep up with these advancements and to work in the new fields created by them, we need to ensure our children are educated in these areas. That is where the new buzzword in education comes in – STEM
STEM is an acronym for science, technology, engineering, and mathematics. The integration STEM of into education is seen as not only vital for future job security for our children, but also for the future of the U.S. economy and it's competitiveness in the global marketplace.
Related post: Over 100 STEM and Engineering Activities
It makes sense that a science and technology driven world requires a science and technology focused education system. However, in order for many schools and educational programs to fit all the "required" STEM courses into their schedules, other classes are getting cut.
Classes in the arts are usually the first to go. Part of the reason for the cuts in fine art programs is budgetary. Fine arts classes carry a large budget of their own. If you look at saving money through the STEM colored lens, it only makes sense that you cut what is seen as elective or unnecessary.
But are the arts really an unnecessary part of our children's education?
How The Arts Benefits Students
I think we can all see where the world is heading. Technology and science rule. However, emphasizing STEM at the expense of other studies, especially the arts, can have a detrimental effect on students and society as a whole.
Increased student achievement. A study by the Arts Educational Partnership looked at the results of 62 studies of the effects of various types of arts on overall academic performance.  The study uncovered impressive correlations between the arts and increased proficiency in reading, writing, and math.
Increased motor skills. One of the first and best ways to develop the fine motor skills in young children is to hand them a paint brush, crayon,  pencil, or even scissors. Encouraging painting, drawing, and cutting paper is a huge way to benefit students.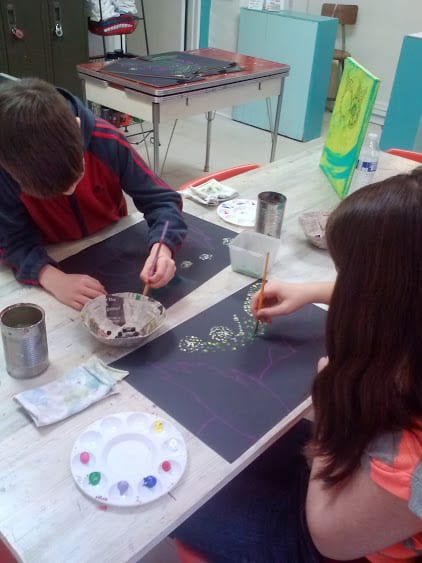 Develops decision making skills. The arts let children safely explore options and test outcomes. These skills carry over to other aspects of academics and life helping them develop the skills to make good, logical decisions.
Encourages creativity. This one might seem obvious, but so important. Our world of rapid technological advances did not develop without some very creative people. Science is great, but without creativity to put knowledge in place in a form that people can use in their daily lives, these advances might not make that great of an impact. We need creative people.
Makes learning fun. The arts give kids a chance to move and be free. They might be painting, dancing, acting, or creating in another way, but they are moving and to kids, moving and creating is fun!
How Art Benefits Science
In the small college I attended, it was easy to get to know your professors very well. It was not uncommon for a class to be invited to one of their houses for dinner or to chat with them in their offices or at a local pub. As I got to know them, I started to notice something common about many of the most brilliant of them.
Until college, my idea of a scientist was someone who was fully engrossed in science with little regard or interest in much else, especially the arts. I was ok with that since I could not draw a stick person that actually looks like a person and I got through high school without taking a single art class. However, getting to know my professors changed all that.
As it turned out, the microbiology professor was also a painter, and the professors that taught the genetics and the organic chemistry courses played in the community orchestra. The ornithologist was a talented photographer, and the botanist loved creating with fiber arts.
This was shocking to me. Science and art seemed so opposite to my young mind.
When I entered the professional world I found the same trends. Almost all of the higher level scientists and researchers I worked with had an interest in the arts. Whether it was playing instruments in the local orchestra, drawing, painting, pottery, fiber arts, or a hundred different creative pursuits, arts were important to them.
I asked one of my first bosses about this phenomena. He was a biochemist who played cello in the local orchestra and loved to create beautiful gardenscapes in his backyard. He was kind of shocked by my line of questioning and looked at me as if I really didn't understand science at all. And until that point, I guess I didn't. That afternoon, he explained science and to me.
Science itself is art. All parts of nature are woven together in a beautiful, seamless 3D tapestry.  It is complex, yet elegantly simple. To figure out the pattern and how it all fits together takes creativity. Sometimes, it requires thinking outside of the box. The pure logic side of the brain can't comprehend or unravel the mysteries that do not follow a logical path. It's the free-thinking, creative side of the brain that allows for problem-solving and what-ifs to be tested.
Related post: The Link Between Science And Art
That is why creative people make great scientists and mathematicians and technology professionals of all types. They are the innovators that breathe life into all areas of STEM. Without art, discoveries and advancement would be hard to come by. And since our goal as a society is to advance and create a future in STEM, it only makes sense that we add the component that makes it all work – art!
Changing From STEM To STEAM
This is where STEAM education comes in. STEAM (science, technology, engineering, art, and mathematics) is just like STEM with the important addition of art. We need to shift our STEM thinking just a bit and add art back into the conversation.
Schools are starting to starting to add the arts back into their programs as budgets allow. Why wait for the schools to catch up?
We can start this shift to the benefits of STEAM at home. Whether we homeschool or supplement traditional education at home, giving your child the opportunity to learn about the arts or to add art into a scientific activity can help your child develop the skills they need to thrive in our changing world.
It's easy, even for the not-so-artsy parent like myself, to expose children to the arts. Enroll your child in an art, dance, or theater class. Stock up on simple art supplies like paper, paints, and crayons. Attend local performances and gallery events.
STEAM Kids
A killer STEAM resource for your students is STEAM Kids. This ebook shares over 50 STEAM related activities that you can do right now to help your kids develop thinking skills and a love of learning. Each activity is designed to open up science or engineering or math to your creative kids or to show your budding engineering that art is cool. too.
If you are looking to introduce STEAM to your students, this is the resource for you!
 More Art Resources
The Link Between Science And Art
Homeschool Art Pinterest Board