The Creature Crew Science Kits: Animal Eyes
We decided to homeschool because we wanted to gear each child's education to their interests. This has meant many hours….days….weeks studying animals with our youngest.
When I discovered The Creature Crew science subscription boxes for kids ages 5-10, we were beyond excited because the kits are animal themed. We have studied a great deal about animals during our homeschooling years, would The Creature Crew boxes teach us something new?  (spoiler alert: YES!)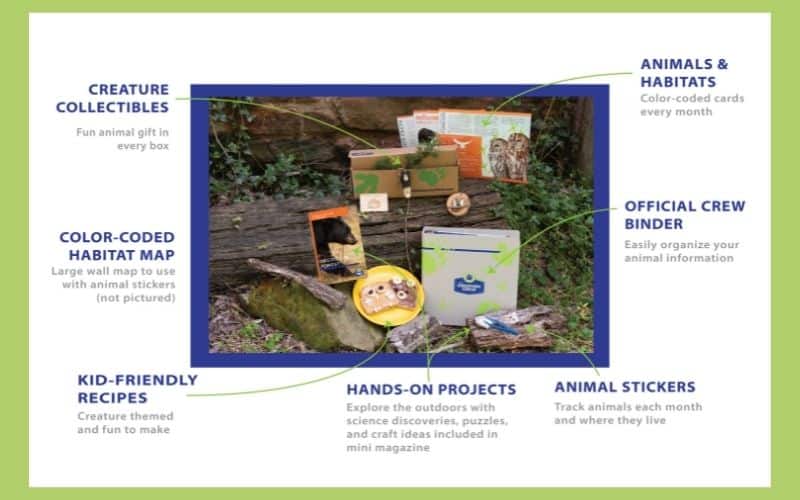 Features of The Creature Crew Subscription Boxes
These hands-on kits incorporate more than just science; each kit integrates multiple subjects, including:
Geography
Art
Nature
Research and "digging deeper"
Hands-on science activities
Crafts
Vocabulary
And, of course, food activities.
We prefer this hands-on, unit-study-like approach to learning at the elementary grade level, as it immerses our children in the topic. Plus, it works well for various learning styles and provides our children with an opportunity to discover the world around them via a tactile and visual approach.
The Contents of the Kit
Let's take a closer look at what comes with a Creature Crew science kit subscription because these animal themed hands-on science kits are a departure from other science kits we've used.  The activities and supplies in the box provides children with an opportunity to engage with the information in a variety of ways. This brief video tour highlights contents of the first kit we completed on animal eyes.
What Is Actually In Each Creature Crew Box?
The first installment of  The Creature Crew subscription arrives with a Habitat Map of the World and a notebook.
A large wall map and a notebook? Yes, thank you!
These are two of my favorite homeschooling supplies. (We have notebooks full of animal drawings, detailed robot drawings, science experiments completed from library books.) We have owned A LOT of science kits (I used to own a science kit company), and this is the first kit that included a notebook.
Determine what type of habitat we live in.
Find the areas with the widest variety of habitats.
Compare the habitats found close to the Equator and the habitats found at the North Pole and the South Pole.
Stickers are included to use with the map to have your child place the stickers as they read through the facts and information cards included in the kit. The stickers are another way to help children retain the information and is a tactile way of learning.
The Creature Crew Notebook and Information Cards
Notebooks are a great way to turn your child's schoolwork into a keepsake. The first installment of the Creature Crew subscription comes with a notebook.
BEAUTIFUL information cards come with each kit to put in notebook. The cards are written in a conversational voice at the student's level and present facts and data in various formats, including maps, graphic organizers, QUALITY photos, charts, bulleted lists.
This 20-second video provides an up-close view of the information cards.
I appreciate the inclusion and format of the animal classification information for several reasons. First, these fun science kits are for ages 5-10, but it's not too early for the younger-aged children to begin hearing the words and getting exposed to the concept that scientists group animals. It is more interesting to present animal classification information in a graphic organizer than in a paragraph filled with words that are difficult for a young child to read and pronounce. Plus, young students can more easily see the concept of a hierarchy.
How we present facts, figures, data, and information to students is important because our children have different learning abilities that may require a more visual presentation at times.
And let's be honest, it can overwhelm kids (and adults!) when faced with a page just full of text. Visual interest is important to remain engaged in a lesson.
The cards contain information which may cover:
Life cycle
Habitat
Animal classification information
Physical features
Physical adaptations to protect themselves from predators or to survive changes in weather
Physical characteristics that are unique to the animal
Fun facts
Diagrams
And gorgeous photos.
The information cards are about 9″ x 12″, laminated, and VERY durable. Since the cards reside in the notebook, this is a resource to refer to for years to come.
I can see adding this notebook to our homeschool shelves and using this notebook as a research tool for future assignments.
The Awesome Surprise in Each Kit
Each Creature Crew science kit comes with a fun surprise inside. I don't want to ruin the surprise for each box, but I will disclose just one.
We received this very cool iguana nightlight. The light changes color when the base is tapped! What a fun way to remember what's presented in the kit about how and why ignuanas change color. No doubt, everythime our kids see that lamp, they'll be able to explain why iguanas change color.
The Activity Guide
Each Creature Crew subscription box comes with an Activity Guide which outlines each activity in detail. This is a full-color 6″ x9″ booklet that walks you through the kit.
What's in the guide:
A note from the Creature Crew
Science activities with a materials list, instructions, photo, and brief explanation of the purpose of the activity
Review questions that correspond with the information in the booklet.
A research activity or a nature scavenger hunt
Instructions for the craft activities and snack activities
Answers to any comprehension questions
Science is all around us, and the science goal for preschool through sixth grade should be to get our children discovering. We want our kids to love learning; a love for learning will serve them well throughout life.
We want to encourage their scientific curiosity.
This is what I like about the Creature Crew subscription boxes; they incorporate a variety of activities that engage children through science experiments, crafts, going outside and observing nature, researching information in books, and mapping. The kits even integrate fun food activities to help children remember the features of animals and habitats.
Getting our children in the kitchen can create an interest in food and cooking. It can expand a child's food palette and working through recipes can build math and comprehension skills. Plus, they will find it rewarding to share their yummy creations.
So, let's take a look at the first box we did.
The Creature Crew Subscription Box – Eyes
This kit explores the eye design of animals and takes a close look at tarsiers and Parson chameleons.
The information cards are packed with fascinating information and facts. Did you know that a tarsier's two eyes are heavier than its brain?!
It's not just facts either; there are explanations about their sense of hearing and how the design of specific body parts impacts their hearing ability.
One of our favorite reading sections was the spotlight on six different animals, the design of their eyes, and an explanation of how the design helps the animal see.
The Crew Closeup call-out section on the cards discusses a feature or concept in animal biology. In this eye unit, the Crew Close-up explains ultrasonic hearing.
Again, the Creature Crew creators do not water down the information. The writing style is conversational, which children in the target age group can relate to, but the kit authors introduce vocabulary and concepts, like ultrasonic hearing.
We did make a vocabulary list while reading, which also doubled as a spelling list, and added it to the notebook.
The Activities  
The activities in this box included:
Some optical illusions to try
A decoder activity helps illustrate how the red, blue, and green receptors in our eyes work. (The red filtering glasses needed for this activity are included. )
After completing the activity as outlined in the booklet, my daughter wanted to test out other color combinations. So, be ready; this fun science activity is an excellent jumping-off point for testing different color combinations.
Several craft activities, including making a tarsier (which was a hit because we got to break out the craft paint!) and making a sequined chameleon. So, why a multi-colored sequin chameleon? To help us remember that a chameleon does change color and why they change colors…which is explained on the information cards!
We went to the local science center and zoo and paid special attention to the eyes of various animals. They happened to have a special raptor day too, which gave us an opportunity to get an up-close look at owl eyes!
What Makes the Animal Eyes Creature Crew Science Kit Unique
The chameleon craft is an excellent illustration of why The Creature Crew kits are different than other science kits. The activities help children remember the unique features of the animals studied. After making the sequin chameleon and re-reading the section about how chameleons change color, the student has a visual anchor that helps them explain that adaptation to someone else.
Every detail of the kit is well-thought-out and takes into consideration the age group and the way children learn. If your child loves to read, the cards are perfect for them. If your child is a more visual learner, the map, illustrations, photos, and graphic organizers are ideal for them. And if your child is a kinesthetic (hands-on) learner–oh, yes, there's plenty of hands-on in Creature Crew boxes.  Most children, are a blend of learning styles, and this is why these kits are different. Typically a science kit has supplies and instructions. The Creature Crew boxes have the mapping, the rich photos, hands-on activities, writing activities, cooking activities, science activities, and craft activities.
This animal eye kit centers on a science theme but incorporates geography and mapping, art, reading, and reading comprehension. We added vocabulary and spelling lists from the information cards.
Of course, the chameleon nightlight adds an "oh, cool!" factor to the whole experience.
I am looking forward to sharing our experience with two more of The Creature Crew kits–The Ocean and Deciduous Forests.
Ways to Incorporate the Animal Eyes Creature Crew Kit Into Your Homeschool
After using and reviewing the Animal Eyes kit, here are the ways it can be used:
Stand alone as a special science day during the time between kits.
Add it to an animal study
Add it to a study of the five human senses. How fun to compare animal eyes to human eyes after completing the activities! The information on the cards does point out ways animal eyes are similar to and different from human eyes.
Make it a co-op with each family purchasing a subscription, then get together to do the activities
Combine the kits with trips to different zoos or science museums and go on an animal eye scavenger hunt based on the Eye Challenge in the Activity Guide. (Don't forget to tuck the Activity Guide in your bag BEFORE you leave the house!)
If you are planning a study of each Continent, add this kit as part of your study of Asia.
These kits also make ideal Christmas or Birthday gifts from other family members looking for educational and unique gift ideas.
How to Get More Information About The Creature Crew Subscription Boxes
If you are looking for ways to help engage your child, check out The Creature Crew, a kid's subscription box about animals. Each month is full of hands-on activities, crafts, science, and recipes. It is a great way to have hands-on learning delivered to your family every month.
To learn more and view all of the science kits The Creature Crew offers via their subscription service, visit their website.