The Lab Report – Make Your Own Slime
What kid doesn't like slime? It's gooey, gross and even more fun if you can make it yourself! DIY slime is a bonus, because it also makes a great chemistry lesson. Here's how to make your own slime!
What happened?
The borax reacts with the polyvinyl acetate molecules in the liquid glue to form large polymers. These polymers are large repeating links of molecules and compounds that are chained together. This lets allows the new mixture to spread apart and flow and form to its container like a liquid, yet the molecules do not break apart like liquids. They hold together.
Try this at home varying the amounts of borax or glue and see how it affects the slime.
*******************************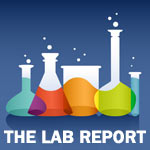 The Lab Report is sponsored and supported by Apologia Science.  Looking for experts to assist in your child's home education? Check out Apologia's online curriculum options.