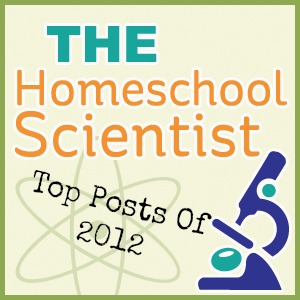 Thanks to everyone who made 2012 so wonderful here at The Homeschool Scientist! Here are the top posts of 2012 from The Homeschool Scientist this past year in case you missed them.
2012 was a great year for meteor showers. This post gives more information about one of the most visible and impressive.
Simple experiment to show enzymes in action. This was the first vlog in the "Lab Report" series sponsored by Apologia Science.
Wonderfully, gross experiment, from Amy at Science Stuff By Amy, that actually encourages you to let food rot!
I got a little help from some of my homeschooling friends and came up with this useful list.
Jimmie from Jimmies Collage and The Notebooking Fairy shares her journaling expertise. Fabulous nature journal resource!
This is a simple, hands-on way to teach the difference between potential and kinetic energy. BTW – I think my son's gestures and faces in this Lab Report are hilarious.
This post has great links and resources for studying invertebrates, especially with Apologia's Biology curriculum.
Free printables to make the most of your nature experiences.
I'm looking forward to a great science-filled 2013!! Happy New Year!