10 Reptile Study Ideas and a FREE Reptile Printable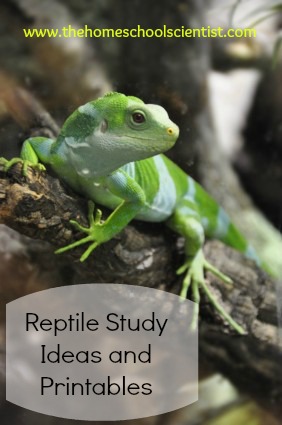 I'm not a big reptile fan.  There I said it.  I homeschool and I don't like scaly, slithering reptiles!  (phew, I feel so much better).
 Needless to say, I have children who happen to LOVE cold-blooded creepy crawlies.
Here are a few safe ways to study reptiles without losing your finger or your lunch!
1. Books!
Books
are a great resource and easily accessible.  Unlike komodo dragons.
2. Zoos! Plan a trip behind the safety of glass to observe the most lethal creatures.
4. Pet Store! Field trips can be free. Enjoy looking at reptiles without the line.
5. Friends! Surely one of your child's friends has a turtle, snake, or lizard. Offer to pet-sit.
7.
Play Doh
! Make your own deadly snake, you can even wear it!
*********************************
Stef Layton is a homeschool mom to two energetic boys. She believes in hands-on interest-led learning. Married to a busy traveling golf course architect, they have taken their homeschool on the road. Stef is the Hands-On Learning Columnist for Homeschooling Today Magazine.

************************************
 More reptile study links….