Using Cooking To Teach Math And Science {plus volume printable}
Using Cooking to Teach Science and Math
Do you want math and science lessons to stick like burnt eggs to a pan? Then, use the laboratory you already have in your home…your kitchen! Let's just hope you don't burn anything.
Believe it or not, cooking and baking can be great teaching tools.
You may be wondering how spending an afternoon baking chocolate chip cookies can relate to math and science. Then again, you may not care if the end result is cookies. Let's go over the super important sounding words that are at the heart of learning in the kitchen.
Math Concepts Taught Through Cooking
Basic math computations
Fractions
Measurement
Related links: math resources and 120 cooking and kitchen chemistry resources
Science Concepts Taught Through Cooking
Chemical changes
Physical changes
The function of ingredients
Data collection
Now, let's mix together these ideas and apply it practically to what you can do to teach math and science in your kitchen.
States Of Matter
We can begin with something as simple as water. Water is perfect for teaching children about liquid, gases, and solids. Simply hand your child a glass of water and identify it as a liquid. Then have your child pour some water into a pot and some into ice cube trays. To show gas, place the pot on the stove and allow it to heat up until you see steam. To show water in its solid form, place the ice cube tray in the freezer and remove once frozen.
Wait…what about the cookies? Cookie dough is pliable. Once baked the cookies are soft when warm but once cooled down the cookies harden. Cake better can also demonstrate this since the batter is liquid but once baked it becomes a solid.
Learn How Temperature Affects Matter
Did you notice one other nugget of learning in those demonstrations? The role temperature plays in the state of matter. When heated, thick liquid such as brownies or cakes become solid. When frozen, cream can be transformed into ice cream. Observe the physical changes of food as the temperature is changed. Does it become more viscous or does it harden? Does it change from one state of matter to another or stay the same?
Chemical Reactions
A fun way to observe chemical reactions is through making pancakes or baking bread. Yeast, baking powder, and baking soda, bubble over with excitement under the proper circumstances. For instance, when you are baking, combine yeast with warm water then add sugar in a small bowl. The water will react with the yeast and the addition of sugar will cause a chemical reaction and create carbon dioxide which leads to bubbles. It is this action that causes baked goods to rise.
You can easily observe this when making pancakes on the griddle. Point out how the liquid batter reacts to the heat by solidifying and rising to become the pancake we all know and love…to eat.  Once the pancake is cooked you can further show how temperature changes matter by adding solid butter and syrup. The heat will melt the butter and make the syrup more viscous.
Learn About Volume And Measurements
Finally, cooking is an excellent tool to teach basic computation, volume, and fractions. For the youngest students, simple counting and order of steps is a great lesson. For students, a little older, observe how a cup of liquid and a cup of flour. While both are the same measurement they may present differently. Does one look like it has more? Is one heavier?
Show how the same substance looks differently even if it is the same amount. Does a cup of water change in volume based on the cup size? Finally, give your child measuring cups and spoons, and have him measure out 1 cup of flour with ½ cup measuring cups or ¼ cup measuring cups.
Cooking in the kitchen opens a world of math and science that can be observed and applied to hold meaning for the child. It also can get your lesson and lunch done at the same time and anything that saves time is quite valuable.
Volume Printable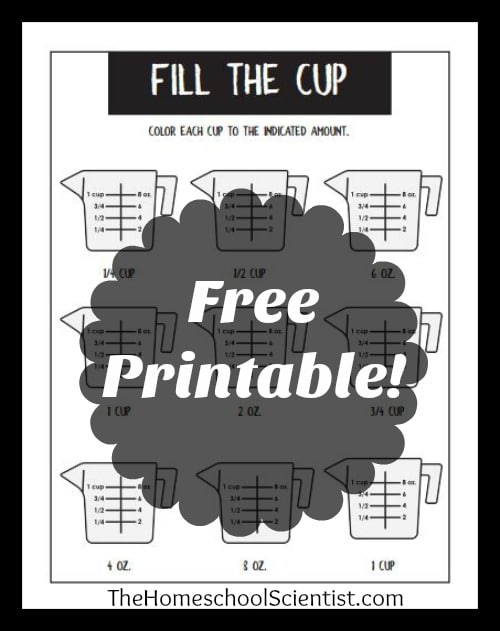 Give your kids a little more volume practice with this
measuring cup printable
.