DIY Pulley Physics For Kids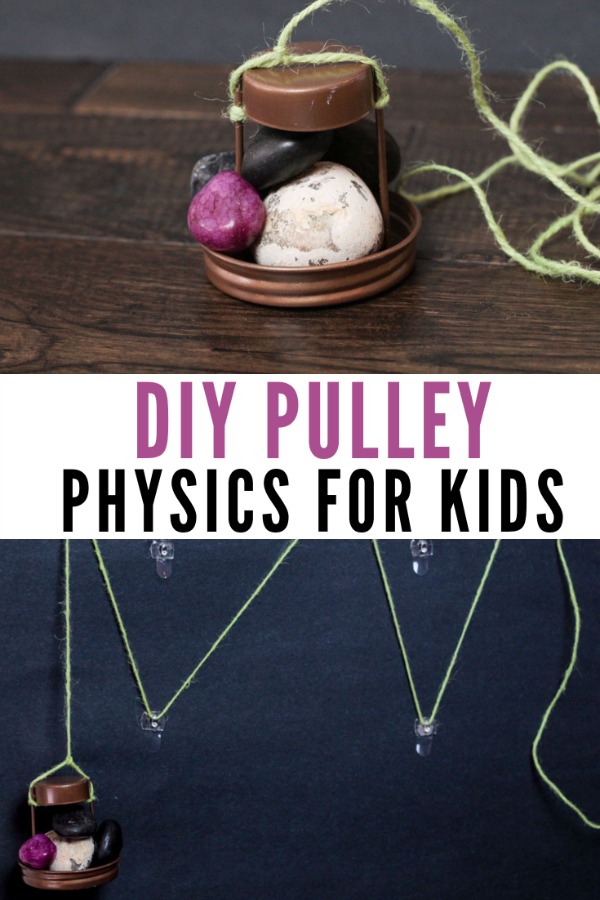 Pulleys are simple machines that have been used to help humans construct large buildings and structures for thousands of years. Pulleys are an example of how engineering and physics work together to make a job easier.
Kids can learn more about engineering and physics by playing with pulleys. Try this fun pulley physics activity and let your kids make their very own DIY pulley system.
Related post: 100 Engineering Projects For Kids
This post may contain affiliate links.
Pulley Physics Explained
A pulley is a simple machine. Pulleys were invented thousands of years ago by early humans and have been in use since around 1500 BC. The Mesopotamians are credited with inventing the pulley, although it may have been in use in other places before that time. Pulleys were used to move heavy rocks to construct buildings and even the pyramids.
A pulley uses a string wrapped around a wheel or other anchor point. One end of the string is attached to an object, while the other end is pulled to lift the object. The more anchor points on a pulley, the easier it is to lift something.
This works with the principles of force. Pulleys redirect force, so that you don't have to expend as much energy to lift something. The more anchor points you have in a pulley system, the bigger the mechanical advantage of the pulley. Each anchor point reduces the mechanical load by half. However, the more anchor points you have, the longer the string must be to lift the object.
DIY Pulley System
Get ready for this fun pulley physics activity by grabbing a few supplies.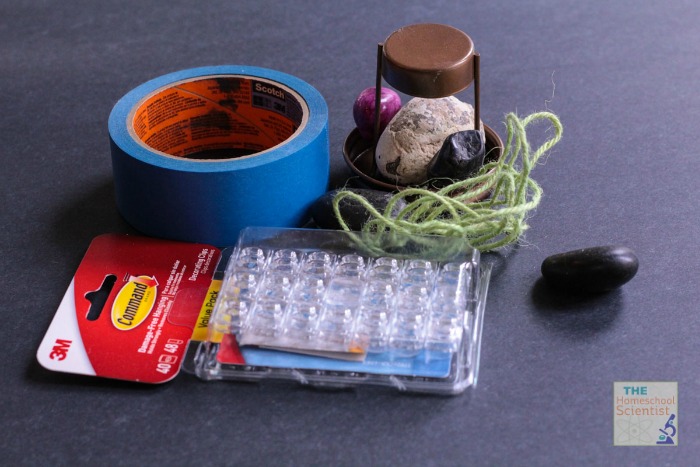 Small basket or other container
Rocks or other heavy objects
String, yarn, or small rope
Poster board
Introducing Pulleys
Before starting the construction of a pulley, discuss the invention of pulleys, their science, and how they work. Show the kids how lifting a container of heavy rocks is difficult if you try to pull straight up. But when you hook the rope around an object and pull down, suddenly it's a lot easier to lift the rocks.
Constructing A Pulley
This activity will let the kids experiment with command hooks to create their own pulley system. They will learn how adding additional anchor points makes lifting with a pulley even easier.
When constructing your pulley system, you can use the poster board to anchor the command hooks so you don't have to attach them to a wall. Keep in mind that you won't be able to lift a large amount of weight using the poster board. It just isn't strong enough. However, a small load should be just fine. You can always attach the command hooks directly to a wall that you are ok possibly damaging.
Start with just one hook and keep adding additional hooks. Try looping your string around the command hooks in different patterns. Compare how easy it is to lift the rocks depending on the arrangement of the hooks and the number of hooks.
Let your kids really experiment with this and see who can create the best pulley system using your given materials.


More Physics Experiments
Salt Pendulum Science Activity 
Making Water Defy Gravity Experiment
Christmas Lights STEM Activity
Simple Radiation And Conduction Experiments
Amaze Your Friends With Centripetal Force
Wrecking Ball Physics Experiment