Pumpkin Unit Study Resources
*This post contains affiliate links.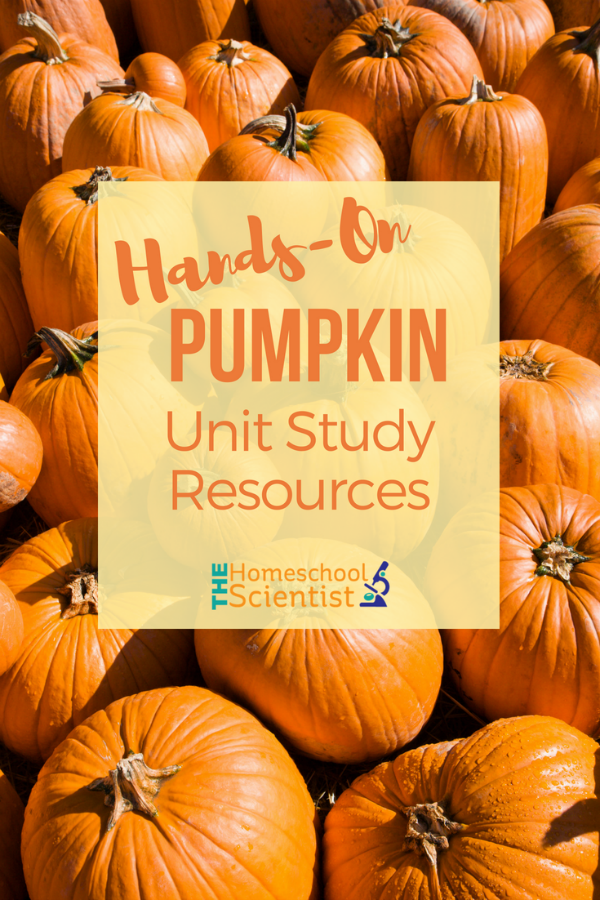 Fall is here. That means sweatshirts, changing leaves, and pumpkins! I remember how much I loved carving pumpkins growing up. After watching them grow all summer in the garden, in the fall we would finally get to pick just the right one for our jack-o-lanterns.
Now, it's my kids' turn for pumpkin carving. We don't grow our own, but Grandpa still does. He still knows how to grow the perfect carving pumpkins. Pumpkin carving is a great family project for a sunny, fall afternoon and can be a jump start into a pumpkin unit study.
Pumpkin Carving
The first step to carving a pumpkin is to cut a hole in the top large enough for your hand or a large spoon. Then, you can remove the seeds and fibrous "guts" of the pumpkin. Taking the "guts" out of the pumpkin allows the kids to see the seeds and the thickness of the flesh of the pumpkin.
If various types of pumpkins are available in your area, pick up several. This makes a great comparison study. Note the difference in thickness and color of the flesh. Are the seeds of the various pumpkins different? Which ones are easier to carve?
When we carved orange and white pumpkins side by side, we immediately noticed the difference in color. The white pumpkin had a light yellow flesh with white fibrous strands and seeds and the orange pumpkin had orange flesh. The seeds themselves were different from those of the orange pumpkin. The seeds of the orange pumpkin are slightly beige in color and smooth. The seeds of the white pumpkin are white, larger than the orange pumpkin seeds, and are kind of fuzzy.
Pumpkin Facts
Pumpkins are 90 percent water.
Pumpkins are fruit.
Eighty percent of the pumpkin supply in the United States is available in October.
In colonial times, Native Americans roasted long strips of pumpkin in an open fire.
Colonists sliced off pumpkin tops; removed seeds and filled the insides with milk, spices and honey. This was baked in hot ashes and is the origin of pumpkin pie.
Pumpkin Unit Study Resources
Turn your pumpkin carving excitement into a pumpkin unit study. I've gathered some resources to help get you started.
Pumpkin Science 
More Fall Fun